Teachers return to workload of five classes a semester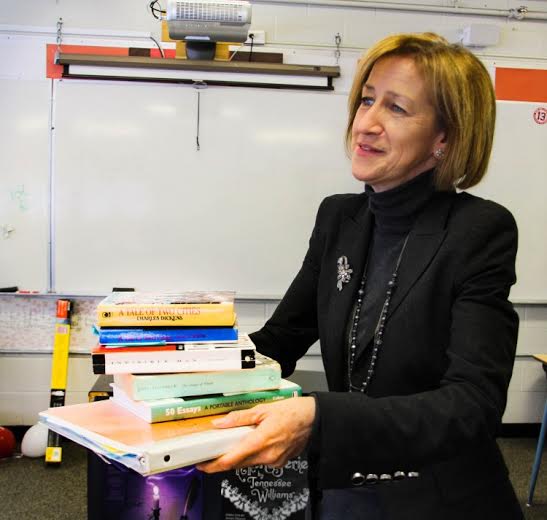 Benilde-St. Margaret's students may barely notice the change in their teachers' attitudes this week. Regardless of outward appearance, a huge emotional and psychological weight has recently been lifted from the shoulders of teachers'.
As a result of budget issues last year, full time teachers were required to teach five classes one semester and six for the other compared to the previous schedule of five each semester.
The decision was viewed by many teachers as an unreasonable amount of stress. "The 6-5 workload is just simply too much––the whole situation was incredibly difficult to cope with, and continues to be difficult to deal with. I think we have financial realities that we're all aware of, but I think we need to look at other ways around it," English teacher Mrs. Maura Brew said.
Formerly the schedule of teachers throughout the standard school day followed this format: five classroom hours, one supervising hour, one professional hour, and one preperation hour. With the addition of an extra classroom hour, teachers were forced to cut back on the time once used for the benefit of the students. This hour not only means less time for student interaction, but also requires more time planning and grading.
The BSM administration has listened to teachers and has decided to revert back to the old system, with five classes required each semester.
"We believe that this system allows for two things: one, it allows us to provide the very best experience for our students and two, it allows teachers to develop professionally," Principal Dr. Sue Skinner said.
Teachers can now use the extra hour to do peer coaching, observe classrooms, and develop curriculum as well as plan out lessons and communicate with parents and students. Teachers' reaction to the return have been very positive. "It's a huge relief that we're back where we need to be. We've learned a lot and we'll hopefully be stronger and more realistic about what we should be doing as a school," Mrs. Brew said.
In this difficult year, teachers have worked hard to maintain their relationships with students and preserve interaction. While the students are very grateful for the unwavering help, the extra work put on teachers has taken its toll. Teachers are happy to be able to aid students even more now. "A five/five schedule will allow us to be more present to kids," Theology teacher Mr. Joel Loecken said.
Many students have not noticed the changes going on in the teachers' schedules. There was a fear that some teachers may not have been able to handle the increase and would leave BSM.
Overall, this change in policy is a beneficial shift for both staff and students. Students can confidently rely on their teachers to go above and beyond and help the student body without unnecessary stress over the workload.
"I'm happy that the situation that has been resolved. As a faculty member it's hard to prep when you don't have time," Spanish teacher Mary Murray said.
Leave a Comment