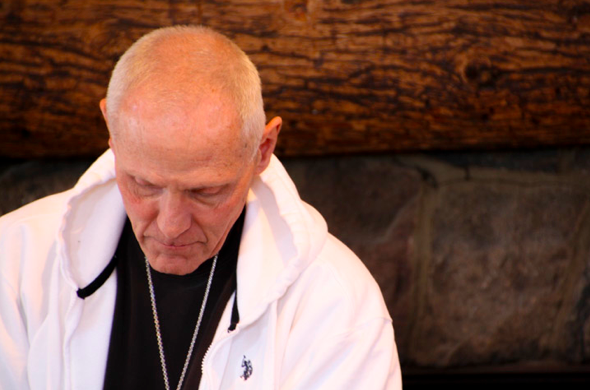 Mr. J reflects on his 39 year legacy
March 12, 2014
Staying in high school for four decades might sound like complete torture to many, but to Mr. Mike Jeremiah, better known by his street name Mr. J, there is no place he would rather be. Starting his career at Benilde-St. Margaret's in the fall of 1975, Mr. J has worked a total of 39 years in Benilde-St. Margaret's theology department and is planning on taking part time retirement.
"
"I can't leave BSM. I have been here for 39 years and this place is truly family and home for me. The community has been my life."
— Mr. J
In the beginning of his journey to Benilde-St. Margaret's, Mr. J attended the Seminary at St. John Vienas Seminary. After graduating, he attended St. Paul's seminary for two years and then took some time off. What was meant to be only a short break turned into a reflection time in which Mr. J came to a conclusion that changed his life's direction. "[The seminary] wasn't really for me. I had always felt that God had called me to something like priesthood and this job at Benilde has been just a different way of living out that call," said Mr. J. After his epiphany, Mr. J went back to St. Thomas to join the masters program for secondary education and graduated in July 1975. That following September he found his home at Benilde-St. Margaret's.
This year will be Mr. J's last year in his position as the leader of peer ministry. He will be taking partial retirement and will no longer be instructing retreats or the peer ministry program, but will continue to be a presence at school. "I can't leave BSM. I have been here for 39 years and this place is truly family and home for me. The community has been my life. They have been family and friends for all these years. And so I would never think of fully leaving here," Mr. J said.
Throughout Mr. J's years at Benilde-St. Margaret's, he has created many memories and impacted the lives of countless students and faculty members. A few months ago, an alumni from the graduating class of 1986 was diagnosed with cancer and hospitalized. A group of faculty, including Mr. J, went to visit him and reminisce about the old days at BSM. At one point Mr. J said, "Buddy, do you remember the mix tape you made me? I just ran across it going through some old things the other day." Mr. J went on to describe the mix tape while the patient looked at him in disbelief, questioning how he could remember such a thing. Mr. J never just remembers a name or face of a student; he recalls special details, blowing people away with the extent of his care for each student
Peggy Renier, alum from 2012, reaffirms Mr. Jeremiah's caring nature, recollecting her fond memories of him from her time at BSM. "[He is] a man of God. He plants the seed of faith in everyone he encounters and connects with students right where they're at in a non-judgmental way. Mr. J always has time for you, and he never ceases to reach out to others with his warm heart." Renier said.
Every student at Benilde-St. Margaret's knows that a stop at Mr. J's office means a smile and mood-boosting candy. "It's amazing to me how kids will come in and get upset that there isn't a specific flavor Jolly Rancher and I just say to them 'I'm extremely sorry I haven't meet your needs, I'll try better next time," Mr. J said.
In addition to being BSM's candy center, Mr. J's office is always open for students to find his listening ear and caring heart. "I love being available for kids to talk about stuff. That has come in so many different shapes and sizes throughout the years, from individual counseling to support groups," said Mr. J.
Along with being the leader of Peer Ministry, Mr. J will miss the retreats as they've been a part of his life for 39 years. "It's going to be a process of letting go, but that is something that we all have to learn in life, letting go, which is what we need to do at times," said Mr. J.
Losing Mr. J as the peer ministery leader and as a part of retreats is truly a great loss, but he is excited about his remaining future at BSM, continuing to influence the student body to connect more deeply to themselves and others. "As always I just look forward to spending time with you guys. Seeing kids grow, change, and develop into the person they were created to be, that's what I love the most. " Mr. J said.