"Captain Phillips" provides a compelling look at a true story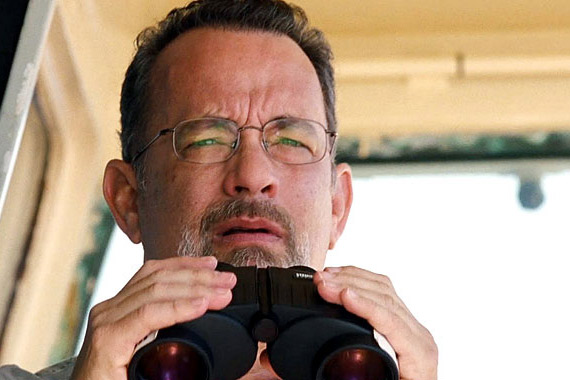 Released on October 11th, Paul Greengrass's action packed masterpiece, Captain Phillips captivated audiences with it's unique cinematic style, talented cast, and engrossing storyline. Filled to the brink with suspense, action, and excitement, "Captain Phillips" keeps viewers on the edge of their seats, eagerly anticipating what will happen next.
This true story documents the attempted hijacking of the Maersk Alabama, an American merchant ship traveling through pirate infested waters off the coast of Somalia. Starring Tom Hanks as Captain Richard Phillips, this film highlights the decisions this veteran captain has to make in order protect his crew, his ship, and most importantly, himself. As Captain Phillips storyline progresses, audiences will stayed glued to the screen as they watch pirates board the Maersk Alabama, armed with guns, and prepared to do anything to make millions, including taking Captain Phillips hostage.
Sony
One of Captain Phillips best elements is it's magnificent cast, even if many of the actors are new to acting. For example, the Somali pirates – most notably the leader of the hijacking, Muse (Barkhad Abdi) – all exhibit a realism to their characters that make it seem as if they have been in the business for decades. These Somali actors all hail from Minnesota, giving the movie a local appeal. Hanks also brings a realism to his role, accompanied by raw emotion that truly shows in the last scene of the film. It would be no surprise if Hanks was nominated for an Academy Award, as his portrayal of Captain Phillips is extraordinary.
Another brilliant (yet dizzying) aspect of this film, is it's cinematic use of the "shaky cam." The entire movie was shot on the ocean, allowing audiences to feel as if they too are experiencing the rough ocean waves rocking the lifeboat back and forth. Although this cinematic decision can at times be irritating, it brings a certain realism to the film that viewers will find to be gripping and compelling.
Captain Phillips will satisfy any movie lover, as it takes audiences to the dangerous ocean alongside the Somali coast. The film accurately portrays the real life story of Captain Phillip's bravery in a time of danger, through a riveting plot that will amaze viewers. With a talented cast, this movie can be watched countless times, while still keeping audiences eagerly awaiting what will happen next.