New security measure implemented in hopes of creating a safer environment
In light of last years' school shooting in Newtown, Connecticut, BSM hopes latest precaution will aid a more secure building.
Anyone walking through the front doors of Benilde-St.Margaret's during the school day is beginning to experience the new security measure installed over the summer. To prevent strangers from wandering the hallways, the inner doors in the front entrance will lock from 8:10 am to 2:40 pm. An electronic security scanner for faculty and students, as well as an intercom system for visitors have been placed in the front vestibule for admittance.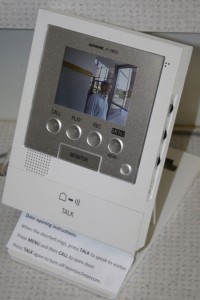 In addition to their regularly issued ID cards, students will receive electronically programmed cards that can be used to unlock the far right inner door, which is closest to the swipe pad. "[The cards] don't have picture on them, but they are electronically registered to [each student]. So, we'll know who this particular card belongs to," Mary Anderson, Security Director, said. Without a picture, these cards can be reprogrammed and reused from year to year, keeping costs down.
Visitors will be able to use the intercom system for entry. The intercom calls the front desk, where a camera displays who the visitor is. The far left door, which is closest to the intercom, will then unlock.
Although these changes were implemented after a year of violence, such as the Sandy Hook Elementary School shooting, new security measures have been considered in the past. "We're on a highway. It's really easy to get to BSM. We have talked over the years about 'Do we need to lock our doors?', but Sandy Hook was definitely a catalyst in the situation," Anderson said.
Last year security coordinator, Jon Pachkofsky, guarded the main lobby, but it has been decided that this was neither the safest or most advantageous form of security, although it was a step up from previous system. Before this measure was taken, it was only the faculty at the front desk to keep track of all visitors. "We could have a person stationed right there, waiting for somebody to come in and stop them immediately, but it just doesn't work well with the way we utilize that main lobby. And if somebody at the front desk happens to turn or be away for just a moment, suddenly somebody was able to walk right in without checking in. And over the years, people have done that," Anderson said.
This new system will ultimately provide BSM with a safer environment. "We had a lot of conversations last year about what we could do, and we finally settled on locking our doors, so we control when people come in," Anderson said.
View Comments(1)