A story of success: Ian Anderson
Success is an interesting concept. I spent a lot of time in a Minneapolis store talking to an entrepreneur named Ian Anderson about it recently. The store isn't especially ritzy, but it is inviting, and turned out to have more to offer than just highly prized pieces to a card game.
Anderson is a 2003 Red Knight alum and attended the nearby St. Olaf after high school. At the age of 28, he now has eight self-sufficient businesses. The interesting thing is, each business is completely different than the last, from music production, to t-shirt design, to publishing, to a games store. His success isn't from reinventing the wheel: it's from loving the wheel.
Every one of Anderson's different ventures fall under one parent company called The Afternoon Company. From there comes Afternoon Records, Afternoon Print, The Math Team, Swim, and more.
The first domino was Afternoon Records. "The record label started at Benilde and wasn't very serious at first. Basically I was the one guy among my 'band friends' who was bored enough to start a company. It was for getting people together," Anderson said.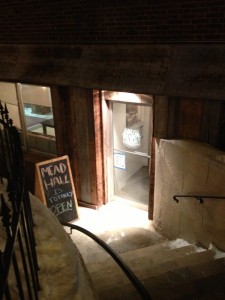 The production company carried on through college, the first big signature being Haley Bonar who went on to work with well-known indie musician Andrew Bird. Then Yellow Ostrich and Now Now, who both signed to Barsuk Records (think Death Cab for Cutie, They Might Be Giants, Ra Ra Riot). Yellow Ostrich is headlining Of Monsters and Men right now, too. It's not a stretch to say they made it.
"We're sort of a farm team. I find bands I like and support them, work with them for a few years, and then I introduce them to the right person," Anderson said. Afternoon Records is now part of the Warner Music Group, home to many of the largest labels across the nation. It's not a stretch to say the little company made it, either.
From there came publishing, publicity, licensing, all followed pretty easily. T-shirts were a bit of a departure from that. But the biggest change and now the aspect that takes most of Anderson's focus is Mead Hall Games.
Mead Hall mainly sells comic books, vinyl records, and Magic: The Gathering cards and its accoutrements. It's the coolest nerd-store I've ever been too. But how does someone throw themselves in so many different directions?
When I asked Ian about how he made his businesses work, I expected to hear strategy or a common element that he found in every venture. It's a little bit less mysterious actually. He likes what he does: "Everything I start is something I really love," Anderson said.
"I was dabbling with the idea [of Mead Hall] and before I knew it it was the biggest company I've started," Anderson said. It sounds pretty nonchalant, but Anderson doesn't dabble the same way most people do.
When I walked into his shop, I couldn't have told you that it used to be a serious squatting location. It's inviting and well-lit with a vibe that fits itself perfectly. Crates of vinyl records look onto Lasalle Avenue, comic books are everywhere, and looking farther in you can see the prized display case of 'Mythic Rare' Magic cards.
"
Everything I start is something I really love."
— Ian Anderson
It's a far cry from the state its previous owners left it in. Wood floors replace the blood-stained original tiling, natural looking wood covers the dilapidated pillar beneath, and the grease and soot stains from the fires that were lit inside are all gone. Ian decided to "dabble" and fix all of it with the help of some friends and The Home Depot.
As I was sitting and watching hockey with Ian, occasionally asking him some questions while he worked on his taxes, every now and then a customer would stroll in hoping to play Magic with him. The regulars are all building new decks they'll hopefully take to the big tournament coming up at the Minneapolis Convention Center.
Ian is a hockey fan and the big TV in front of the card playing tables stays mostly on the NHL network, but the first thing he asked Ben (a regular) when he walked in was what he would like to watch on tv. Ben didn't really care as he was in the zone, but it struck me a bit. A pretty marginal detail, but it says quite a bit.
"
We're sort of a farm team. I find bands I like and support them, work with them for a few years, and then I introduce them to the right person."
— Ian Anderson
Ian loves his store: he enjoys working there, he likes everything he sells, it has a good opportunity for growth, and he likes sharing it with people that love the same things. When I asked a different regular who was funnily enough also named Ben how he knew Ian, he told me he just liked coming around to kick his butt [in Magic] when he could. That was it. Their friendship was based off a common passion and Ian's facilitation of it.
Mead Hall has seen a lot of its current success due to relationships like that, but Anderson hopes to break away in another fashion as well. Wizards, the maker of Magic: The Gathering, sells only to distributors, not directly to customers. While it keeps the distributors alive, it also means there is a large demand for online shopping from those who do not have direct access to a local store.
Currently, the online market is dominated by a few major stores. Anderson hopes to join those ranks, and at the same time tap into a network of about six million customers. A network that hopefully not only keeps the store alive, but growing. "Then we get to make this place even better," Anderson said. "The dream is to expand into the space behind the wall and nearly double in size."
More cards, more comic books, more records. Some people would say more success. I know a few things: Ian owns a sweet store, he made it work on his own, he gets to work at something he enjoys every day, and it could turn out to be impressive financially. As to which part of that makes him successful, that is up for debate.
Editor's Note: This story is the third in a new section of the Knight Errant called "Perspective," in which writers will embrace the first-person voice and their own experiences as part of their reporting.