On a chilly Thursday night in December, Benilde-St. Margaret's boys' hockey fans packed the stands of the west rink at St. Louis Park Rec Center for the home opener against the Burnsville Blaze. The 2,000 seat rink was nearly at capacity, and the arena was filled with red and white sweatshirts, student DJs blasting music, and college scouts lining the boards. But just a few steps away from the chaotic frenzy of Minnesota high school hockey, 20 players took the ice on the east rink: the St. Louis Park Flyers.
Just two years ago, helmets and gloves rained onto the ice at Duluth Heritage Sports Center as the St. Louis Park Flyers won their first state tournament in program history. Now, with a new crop of talent, they hope to return to State and recapture past glory. "We have a great group of kids that all want to win, and I believe in this team to make it all the way," senior Tanner Ahlborn said.
Following a disappointing start to the season, the 0-2 Flyers entered the annual Minnetonka Tournament with a desire to prove that they had what it takes to play with the best. After an easy win over a weak Duluth team, the Flyers were matched up with the defending state champs: Edina. The Hornets just slipped by, scoring the final goal with just five minutes left and beating the Flyers 4-3. It may not have shown on the scoreboard, but it was a moral victory for St. Louis Park, proving they could skate with the best Junior Gold players in the state. "The next time we see Edina, the outcome will be a lot different," senior captain Andrew Krough said.
Although the team is made up of BSM students, they play for the St. Louis Park Hockey Association at the Junior Gold A Level, which many Minnesota players opt to play if they get cut from their respective high school team or don't want the daily commitment of high school hockey. "Just because you can't make the BSM team doesn't mean you should stop playing hockey. We're Minnesota kids; it's in our blood," senior forward Johnny Roux said.
But make no mistake; Junior Gold A is a serious matter, especially at established programs like St. Louis Park, Wayzata, and Edina. "A lot of people think that the JGA league is a joke. Although it isn't varsity level, there is some serious talent out there. I think it's comparable to a high JV/swing level, with the occasional varsity player," Roux said.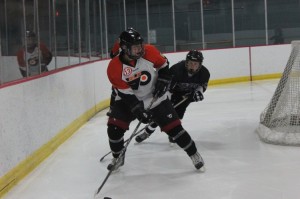 For a lot of players, the most significant benefit of playing Junior Gold is the relaxed nature of the team's schedule. Because they only practice a few times each week, they have more games, making for a less strenuous experience. "Playing for the Flyers is a lot less stressful and serious than playing for BSM. If you ask me, playing for the Flyers has been a better experience, because you get to hang out with the boys and play hockey while also having time to be involved in other winter activities," Roux said.
The team shares a rink with numerous other talent levels, ranging from mites to high schoolers. Because of this, the Flyers usually get the latest ice times, often practicing and having games at nine at night on weekdays.
So on that chilly December night, the Flyers finished up an hour-long practice and returned back to the locker room, smelling of pungent post-practice sweat. There were no fans watching, no scouts taking down names, not anyone. But they didn't mind. These 20 players aren't in it for the glory; they don't expect to play college hockey. They play for pride and they play for each other. "Our team is a family. Us older players do our best to to take new teammates under our wing and make everyone feel like they're a part of the squad. Always for the boys, fly till we die," Roux said.