Students sign sympathy cards for Wayzata players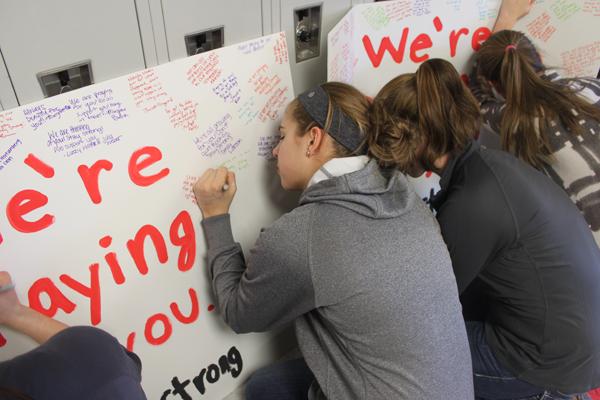 During lunch periods on Monday, Jan. 9, two posters reading "We're praying for you #staystrong" were available for students to sign as a sympathy cards for the two Wayzata hockey players who hit sophomore Jack Jablonski. The posters were made by senior Mikayla Coulombe, who plans to deliver the posters to the boys' homes later tonight.
Coulombe's concern for the boys originated when she heard Jablonski was worried they weren't getting positive support. "In the interviews I've seen, I know Jack's been really supportive and really concerned about them," said Coulombe. "I know the BSM community shares the same concern, so I thought it was really important that [the boys] knew everyone had their backs and are not mad at them."
Although it didn't take much effort to make the posters, the lasting effect they will produce will be tremendous. "Basically, I went out and bought two big tri-fold boards and drew the Jack Jablonski symbol everyone has as their profile picture on them, and I had everyone sign them," said Coulombe. "I thought everyone would just write their name, but people are writing personal messages, and that's really cool."
About the Writer
Emma Eldred, Online Editor-in-Chief
Emma Eldred is a really funny person. She has outstanding hand-eye coordination and excels at sports. Emma hates the theater and is a dedicated member...