Crazy, Stupid, Love Was Sane and Intelligent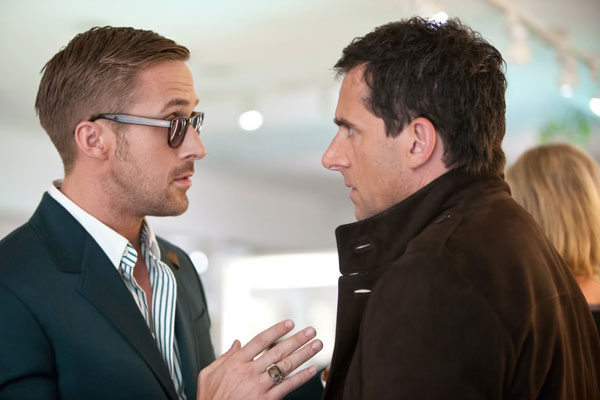 "Crazy, Stupid, Love" appears to be the stereotypical romantic comedy: boy loses girl, boy and girl miss each other, boy wins back girl's heart. Despite appearances, this movie proves to be something much more than that.
The plot's humorous twists and turns make this movie anything but a typical love story. Armed with a group of well-known actors such as Steve Carell, Julianne Moore, and Kevin Bacon, this movie sets the bar for love stories to come.
The movie's plot revolves around Emily revealing to her husband Cal that she had an affair with co-worker David Lindhagen. Emily tries to explain that their love had just died out, but Cal refuses to listen, and divorce quickly follows suit. Cal begins to spend his days and nights in a bar, whimpering about his sad life to anyone who will listen.
This is where Cal meets Jacob, played by Ryan Gossling, who at first glance seems like a player, but later, the audience learns that there is more to his character than his player-like persona. With Ryan's help, Cal begins to put the broken pieces of his life back together. He gets a completely new look and a new confidence that allows him to sleep with any girl of his choosing. But the only girl he really wants is Emily.
Always hilarious, Steve Carell was able to create a character that is so lovable that even after he sleeps with countless women, you can't help but to still root for him.
In contrast to Carell's character, Ryan Gossling plays his role with such confidence that the audience will be stunned when they learn that he is just as vulnerable as Carell's character. He is able to create a man that seems so insecure and lovable that you can't help but to wish you were the girl he was pining after, especially after revealing that he can dance like Patrick Swayze in Dirty Dancing.
"Crazy, Stupid, Love" keeps the audience interested all the way through, because the plot never plays out the way the audience expects it to. In most romantic comedies, the audience knows that once the guy performs his big gesture to win the girl back everything will go back to normal.
Unlike a typical romantic comedy, "Crazy, Stupid, Love" does not end there. After Cal's plan to win Emily back goes astray and a big fight takes place in his backyard, he is forced to try to prove again that love cannot die. As the characters' stories intertwine within one another, the audience is presented with an adorable love story that will keep them laughing until the very end.