Music Radar: Cracker Island Album Review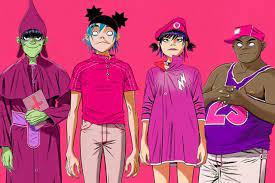 Ok, hear me out first. Gorillaz is a virtual band and the brainchild of Damon Albarn, who handles the music side of things, and Jamie Hewlett, who handles the visual art of the project. Many saw the band as a joke or a gimmick when their self-titled first album came out in 2001 but 22 years later many have heralded the band as creating some of the best music in the past 20 years with their albums Demon Days and Plastic Beach. Gorillaz are fresh off the release of 2020's Song Machine: Season 1 and have brought us back to a new beach, a new island, Cracker Island to be exact.
Gorillaz opened this project with a ton of momentum with the title track "Cracker Island" which features bassist virtuoso Thundercat on bass and backing vocals. The thick and groovy disco and funk vibes on the song literally gives me goosebumps. The lyrics use this island to explore the dangers of stan culture through the lens of a cult, which many fanbases seem more in common with than not these days. Other notable songs include "Silent Running", which is a fun synthpop jam with great backing vocals by Adele Omotoyo and "Tarantula" which on a first listen was my least favorite on the record but slowly won me over with the best chorus on the album next to "Cracker Island".
Much of my major gripes with this project lies with two issues. Weak choruses and Gorillaz trying to adapt their sound to features rather than the other way around. I highly anticipated "New Gold" featuring Tame Impala and Booty Brown, a founding member of The Pharcyde when the tracklist for the album was originally released. Unfortunately the song left a lot to be desired. Brown's rap verses are probably some of the least witty bars I have heard and honestly feels like a Tame Impala song featuring Booty Brown and Gorillaz. While "Oil" featuring Stevie Nicks of Fleetwood Mac fame is alright, it is really nothing special. I wish that Nicks had more presence in the track and a stronger chorus to carry it. Which reminds me that a lot of featured artists are delegated to background vocals even if we know they have the chops to elevate the song to a whole new level.
Cracker Island by Gorillaz is the definition of a mixed bag. I see wasted potential. Songs like the title track and "Tarantula" are great, but on the other side of the coin, many of the songs on this album are not up to snuff. Gorillaz, who have been praised for their smart and creative work with features in the past, created an album where the features are the weakest part. Overall I enjoyed the project but a lot of the songs were in one ear and out the other. I give Cracker Island by Gorillaz a 5/10.