Junior Gus Bell commits to West Point for lacrosse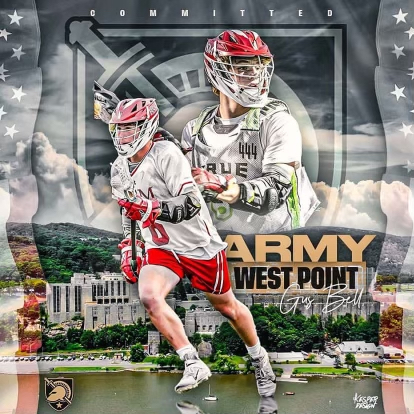 Many BSM students are making decisions on where they want to further their education while continuing their sports career. Junior Gus Bell recently made the decision to commit to the United States Military Academy, often known as "West Point" or "Army," to play Division 1 lacrosse. This transition takes him from a Red Knight to a Black Knight.
Bell's experience as a lacrosse player began at a young age. As a third grader, he played for the first time. "I started playing lacrosse because my older brother was playing lacrosse and I wanted to play too," Bell said.
Ever since, lacrosse has been a big part of Bell's life. He makes sure to get some form of practice everyday to keep improving. "I play everyday and always have to do something involving lacrosse," Bell said.
Later on in his career, Bell started playing on the National Team for the club Minnesota True Lacrosse. He also made the BSM varsity lacrosse team; doing both while being just a freshman. He was also a player on the team when BSM won two state championships back-to-back in 2021 and 2022. "My experience on the team has been great and winning state was a special feeling, it takes everyone to be on the same page at all times to do it and that's what our team did," Bell said.
"
I thought I played really well at the camp and was able to get a feel of what playing for West Point would be like"
— Gus Bell
With all of these accomplishments, Bell has had many friends and family members by his side along the way. He also has a lot of appreciation for his coaches: Rob Horn, Chaun Klemetstrud, Drew Peterson, and Giuseppe Palermo. "[My] biggest supporters are my coaches and my family," Bell said.
The process of Bell's decision to commit started with West Point coaches and recruiters taking the trip out to watch his games during the high school season his sophomore year. Later on, he exchanged calls with them and got invited to play at West Point's lacrosse camp this full. "I thought I played really well at the camp and was able to get a feel of what playing for West Point would be like," Bell said.
Bell was offered a full scholarship after participating in West Point's camp. Before making a decision, he went on a visit the next day to see the campus and get more information on the school. After the visit, Bell made his final decision on furthering his academic and athletic career at West Point. "I'm excited to play college lacrosse and get to know my teammates," Bell said.