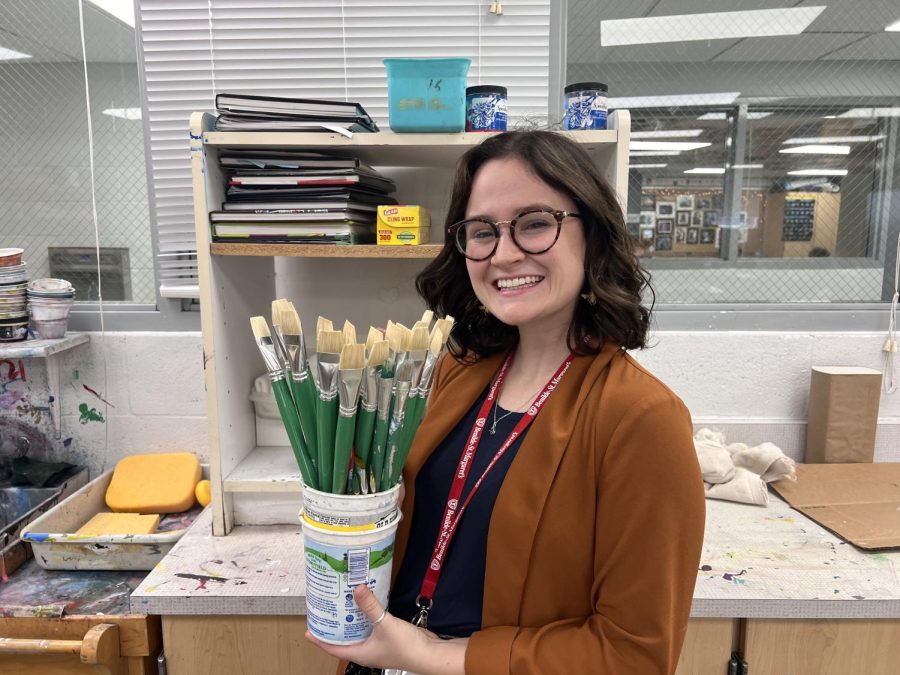 New Teacher: Ivy Matson, Art
This year at BSM, Mattson found her place here in the Arts Department. During the first semester, she is teaching Art+Design to ninth graders, as well as in the Junior High with General Art. For the second semester, she is thinking of adding on some other art classes. "And then in the spring, I'll also be adding like the art of craft, a 3d class, you know, whatever they need," Mattson said.
Mattson felt BSM was the right choice as soon as she heard about it. "BSM just has a really wonderful reputation, and I when I heard about the position opening, I just knew that I had to apply I'm sure. You know, my family was already planning on moving down here. So it just kind of all fell into place," Mattson said
Mattson and her family were originally from Eden Prairie before moving to Fargo about a decade ago. "I actually grew up in Eden Prairie, so super close by but I've been living for just about the last decade up in Fargo and I just moved back down here this year. So yeah, like the movie," Mattson said
Before BSM she attended Concordia College in Moorhead right by Fargo. She remembers this place by the unusual mascot it had. "And our mascot is hilarious. It was the Cobbers which is Colonel Cobb. So he is a literal corn cob. We don't know what war he fought in, he was a colonel though," Mattson said.
At Concordia she majored in both Art and Spanish, which helped her later in her career when she worked at a Spanish immersion school in Moorhead. "I got to teach art part of the time in English and part of the time in Spanish, which was really lovely," Mattson said.
Away from school, Mattson lives out the lifestyle of an artist. "So, I am a resident artist at the Northern Clay Center. So I'm part of the MN nice group. It's an acronym. So it's Northern Institute for Ceramic Education, but they just call it the MN nice program," Mattson said.
Ceramics are just one of her hobbies along with hiking. Just this summer she went on a venture in Europe called the Tour de Mont Blanc. "It's this crazy backpacking hike in the Swiss Alps, where we go from Switzerland to France to Italy and back, and it's 112 miles. you do 104 miles and you do it over like 10 to 12 days. And the elevation change is more than Everest. So I got to do that this summer, which was also lovely," Mattson said.
She is also grateful for the partnership she has found with her coworkers at BSM. "I'm lucky enough to share a classroom with Mrs. Misch and she is an absolute joy to be teaching alongside. So that is just wonderful, that collaboration," Mattson said.
Already Mattson has high hopes and is super excited for the upcoming school year. "I see this year going great. I think students show wonderful integrity thus far. They show a knack for learning and growing and experiencing and a huge part of the learning process is failing and trying again, until it works. And I see students already doing that even this early in the year which is wonderful," Mattson said.
If you ever need help on english, spanish, or really anything art related, you can catch her down in room 12.