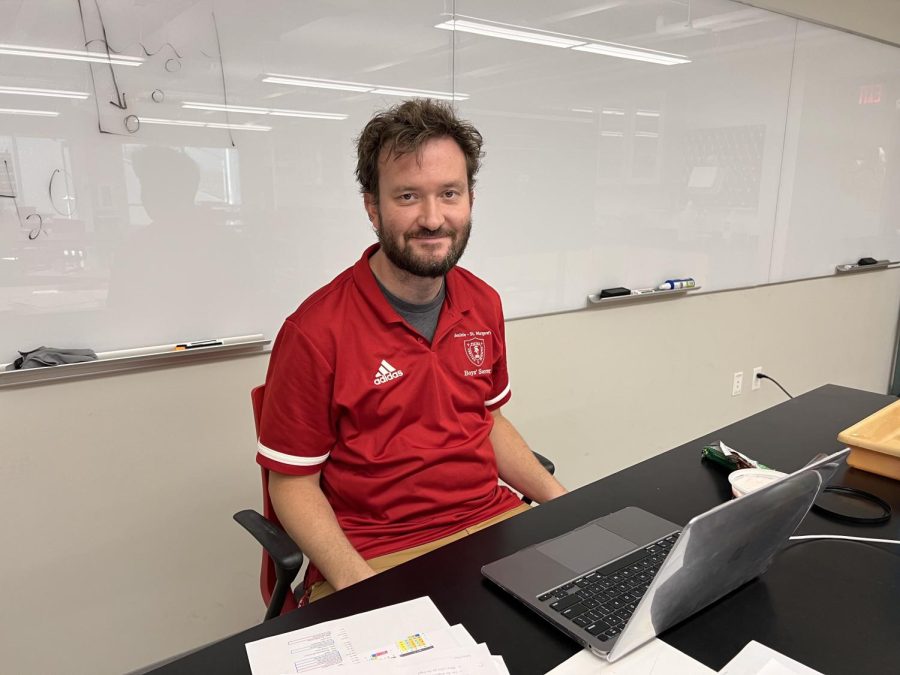 New Teacher: Justin Knapp, Chemistry
Mr. Justin Knapp has been welcomed as the newest addition to the science department at Benilde-St. Margaret's this fall. Knapp holds three Bachelors and two Masters which is more than standard for a teacher, yet he is excited to pursue his passion for teaching.
Knapp previously taught at Maranatha Christian Academy, only 15 minutes away in Brooklyn Park. "My old school is very small. So I had many many preps. I had like four different preps, teaching four different classes, and there was just too much to prepare," Knapp said.
As Knapp searched for a new job, BSM stuck out to him. His father graduated from Benilde High School in 1973 when it was an all-boys school. Knapp obtained the job and is now teaching Honors Chemistry, Chemistry, and General Chemistry. "I'm just teaching one class and because we're having our second child in November, I wanted to make my life a little easier," Knapp said.
Knapp has a lot of experience in science as well as religion. "I went to Bethel University and I majored in biochemistry. I got a Bachelor of Science in biochemistry and a Bachelor of Science in physics. I also got a Bachelor of Arts in philosophy. Then I went to a seminary in Boston called Gordon-Conwell Theological Seminary and got a Master of Divinity there. Then I went to the University of Edinburgh in Scotland and got a master's in science and religion," Knapp said.
With Knapp's accolades, he is actually licensed to teach physics, biology and chemistry, but this year he is teaching chemistry to fill BSM's immediate demand. "I kind of like a variety, but this year, I'm happy that I'm just teaching one thing. In the future, I'd like to teach a couple or eventually I'd like to teach all three, maybe not all at the same time, but I just like having a bit of variety. I think teaching chemistry year after year forever might get a little old," Knapp said.
So far, Knapp is enjoying his time teaching at BSM. He is looking forward to creating lessons that engage the students as well as keeping it fun. "My goals would be to keep students engaged, keep students enjoying their class enjoying chemistry, even if they're not going to be science people in the future. The goal would be to have students have fun with this class and learn along," Knapp said.