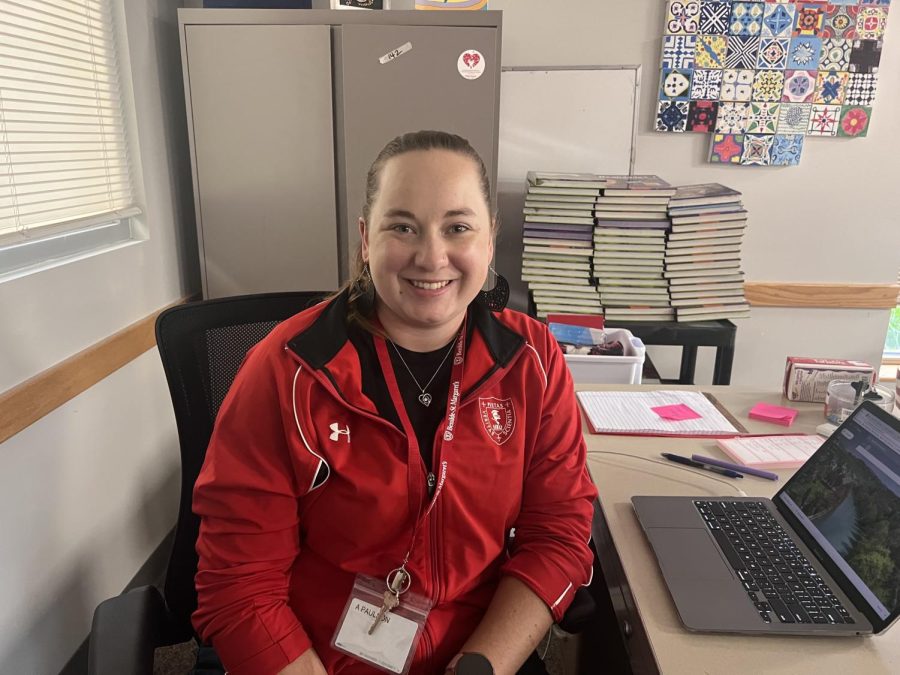 New Teacher: Alena Paulson, Spanish
Former fourth-grade Spanish immersion teacher, Alena Paulson joins the BSM community as she puts her two passions together: teaching and Spanish.
Paulson grew up and went to high school in Waconia, Minnesota not straying far from home to attend Gustavus Adolphus College. After spending one year teaching fourth-grade at a Spanish immersion school, she came to BSM to teach senior high Spanish.
Her love for Spanish began when she was a seventh grader and grew from there as she became even more enchanted by the prospects that the language brought up. "I started learning in seventh grade and I loved my teacher. And I just thought it was a really cool opportunity to learn how to communicate with other people in the world. And the more I learned about it, the more I just loved the culture and the idea that I could travel and go communicate with other people," Paulson said.
Through her many siblings and large exposure to kids in her early life, she always knew that kids would in some way would be a part of her future. "I grew up working with kids. I have a lot of siblings, I always knew that I liked being around kids and then Spanish became like my next favorite thing and then I put them together," Paulson said.
As a comparatively new teacher, Paulson described her teaching style as relaxed yet having hard limits. "I love to learn from firsthand accounts of things. So as helpful as textbooks can be, sometimes they don't give us the whole picture. So I'd like to create a blend of those. And I really, really believe that it is your learning space and it is what you put into it. So I'm there to support and give you all the resources you need. But at the end of the day, it's your language to learn. So if you don't put in the effort, you're not gonna get anything out of it," Paulson said.
Spanish and teaching, however, are not her only passions. Paulson not only majored in Spanish Education but also in dance. "So from what I've heard from my parents, I was a kid that never stopped moving, ever. And so when I turned three, my mom was like that's it, putting her in a dance class, just like go move somewhere else. And that also just became like my love language and the place that I went to express myself and get rid of stress and just go and move my body," Paulson said.