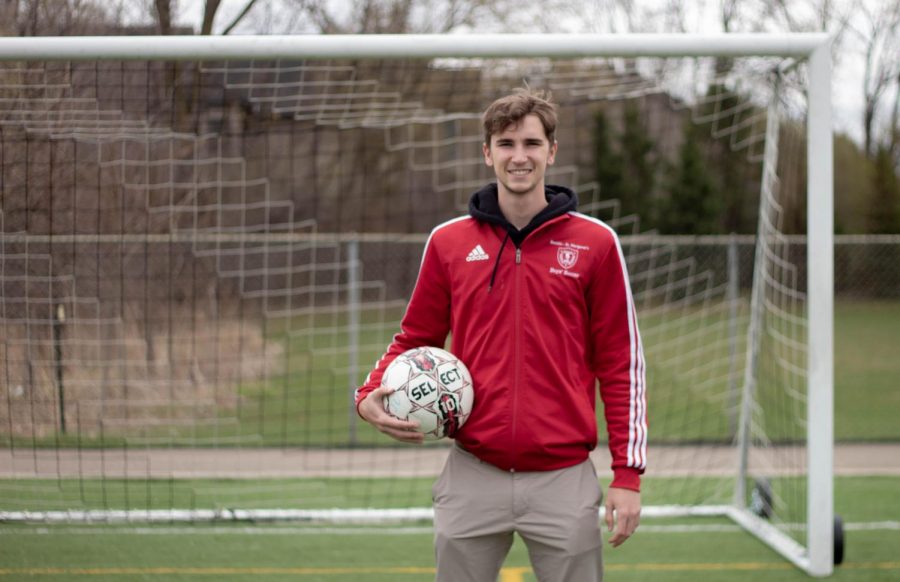 Nick Burlage
After four years of intense work and dedication senior Nick Burlage has been rewarded with the title of salutatorian. Burlage is the only Salutatorian that was selected from the class of 2021.
The sole senior salutatorian Nick Burlage has been dedicating himself to his studies for all of high school. After four years, he got recognition for his efforts. "I've worked hard throughout high school so getting a recognition like this feels pretty good," Burlage said.
These academic accomplishments aren't the only thing that Burlage works on though. "I have played soccer competitively year-round since third grade. During high school, I practiced nearly every day after school, so I had to fit my school work in whenever I could. Sometimes I would be able to work on it right after school, and sometimes I wouldn't be able to until late at night or even the next morning. I just tried to get in my schoolwork when I could," Burlage said.
Burlage is a self-motivated person, and he credits self-motivation as the reason for his success. "I've always really worked hard in school…self-motivation," Burlage said.
Burlage has the hardest time studying for science and mathematics classes, yet he is still able to stay on top of his studies and work. "Subjects like sciences and math definitely give the most homework, but I usually only do an hour or two a night," Burlage said.
A heavy day of school work for Burlage is four to four and a half hours of studying and homework after school. Burlage says that this work pays off in the long run. "When I was younger, I wanted to go to a very well recognized school but it really just was self-motivation," Burlage said.
Burlage wants this achievement to be something that he can remember and be proud of in the future and after asking him how he wanted it to impact his future he said this, "I think it will look good to be on the top of the class but it is a really cool recognition," Burlage said.
Burlage also has some words of advice for students who want to succeed and maybe even push to try and get this amazing recognition themselves. "I would say just get your work done in high school and do your best at it even if it is challenging," Burlage said.
One of Burlage's favorite teachers, Ms. Alison Terrell, appreciated his work all throughout high school and even wrote his letter or recommendation. "Nick started at BSM as a sophomore and I don't know many students who can make their mark in such a short time period, I call students like Nick rockstars and I can count on one hand how many students I have given that title. He is a pretty amazing kid," Terrell said.