Top 5 Fisheries of the Twin Cities
September 28, 2020
Lake Minnetonka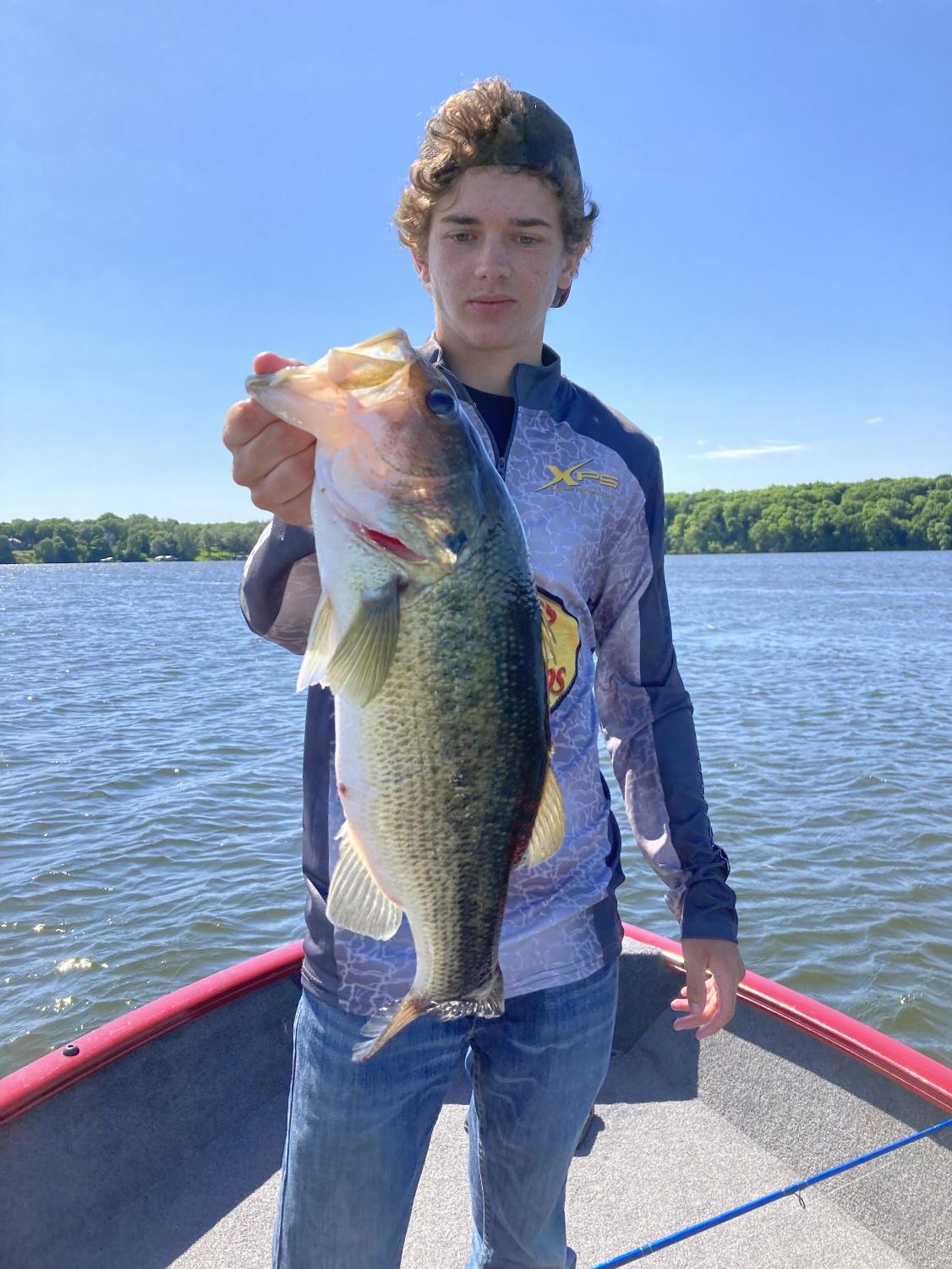 At 14,000 acres, Lake Minnetonka is definitely the largest lake in the immediate Twin Cities. This lake isn't just known for the large houses on the lake, the yachts, the many people partying on the lake, tubing, wake surfing, water skiing, etc… Lake Minnetonka is also known for its fishing.
Being one of the best bass fishing lakes in the Twin Cities, many bass fishing tournaments take place on this lake. Bass fishing on Lake Minnetonka is quite amazing. This lake offers endless bays, each one full of bass all connected by channels offering endless forage for largemouth bass and plenty of room to grow some monsters! Largemouth bass 2-3 pounds are definitely common on Lake Minnetonka, with bass 4-6 pounds readily caught out here, too. A few local favorite fishing techniques for these bass are jigs and a soft plastic worm, any texas rigged plastic, and wacky rigged soft plastic worms. Focus on the weed lines and weed beds for best bass fishing. The endless and large docks along the entire shoreline offer some amazing bass fishing as well. Deep schools in depths of 15-25 feet are also readily available and can actually produce the best numbers of fish. Bass fishing on Lake Minnetonka is definitely a must.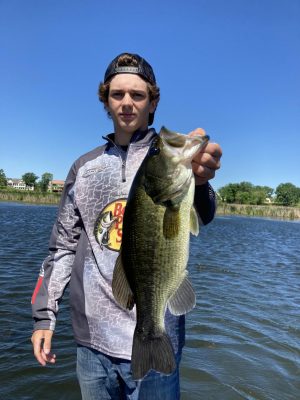 Bass fishing is not just what Lake Minnetonka has to offer. Lake Minnetonka also hosts some muskie tournaments. Minnetonka produces some real big muskies, anywhere from 35-50 inch fish. The DNR has stocked muskie in Lake Minnetonka for quite some time with great success. Most muskie anglers target these mighty Minnetonka muskies with bladed baits like cowgirls, large spinnerbaits, and topwater baits like large whopper ploppers, and some other baits like meducas, swimbaits, and crank baits.
Minnetonka offers some good northern pike fishing with large numbers and some bigger northern pike from time to time. Most anglers fish for northern pike on Lake Minnetonka on weedlines with spinnerbaits and mepps.
Lake Minnetonka has incredible panfish fishing, especially during ice fishing, where ice fishermen will focus on jigging a waxworm in 15-25 feet of water for crappie and bluegill. During the summer, a good ol' worm and bobber will do the trick for bluegills being very easy to catch and very abundant, crappie fishing is best in the springtime with slip bobbers with a jig and a wax worm being a good way to fish for them. Lake Minnetonka also offers some walleye fishing. Most anglers target these walleye in the western side of the lake, this is because the DNR stocks the walleye only on the western side. In the fall, anglers target these fish with lindy rigs tipped with a worm and jigging a minnow in 15-20 feet of water. Lake Minnetonka offers some great fishing!
Bryant Lake
Bryant Lake being small in size may not be as well known as a good fishing spot, yet in reality, it is. Bryant Lake is not intimidating for some anglers because of its size makes it a good spot. Also, Bryant Lake is a great lake for novice fishermen. Fish in Bryant Lake are readily available pretty much anywhere in the lake. Yet, everyone has their secret spots.
Bryant Lake offers an easy opportunity to catch bluegill, crappie, and bass from just about anywhere for any angler, new or experienced. Bryant Lake also has some quite large bass in the lake. With 4-6 pounders being caught out of here quite a bit, 2-3 pound bass are abundant in this lake. Although the overgrowth of weeds in this lake limits fishing techniques to topwater, spinnerbaits, and swimbaits for bass, the lake seems to still produce some great bass fishing.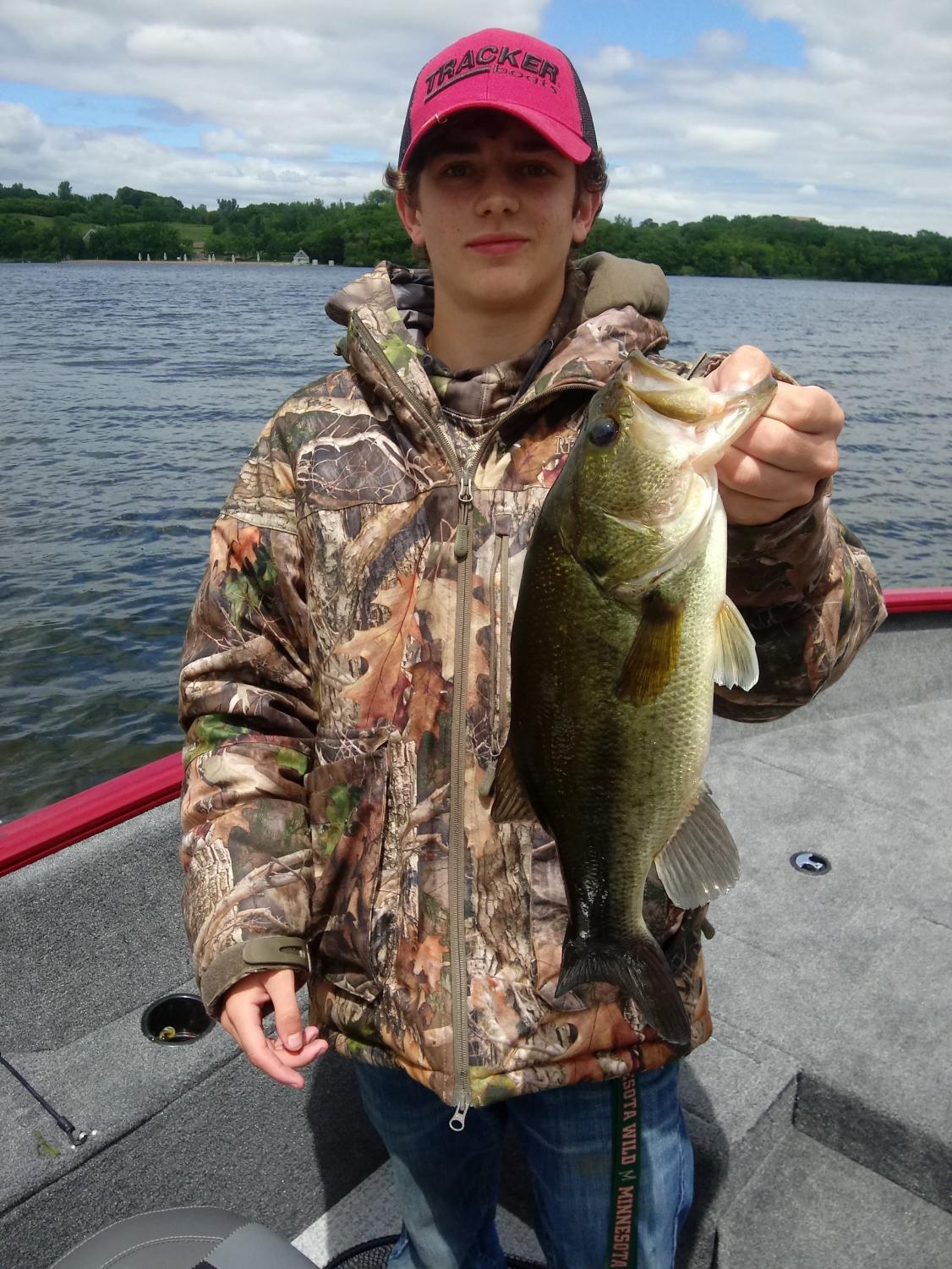 Northern pike often caught on accident by bass fishermen are not only abundant in this lake, but they can get to some decent sizes. Northern pike out of this lake averaging around 18-25 inches long are quite easy to catch, yet a decent number of northern pike 30-36 inches are pulled out each year.
A surprising occasional catch in Bryant Lake is the larger more elusive cousin of the northern pike, the tiger muskie. Yet not quite a true muskie, the tiger muskie is a cross between a northern pike and a muskie, yet the tiger muskie is not able to reproduce. This fish offers some beautiful colors, a rare occurrence and a hard fight is quite an amazing fish. The DNR readily stocks these fish in Bryant Lake, with the Bryant Lake tiger muskies sometimes reaching sizes of 36-42 inches long. Most of these tiger muskies are accidentally caught while the angler is targeting bass or northern pike. The DNR also stocks walleye in Bryant Lake, yet these fish are quite a rare catch.
Mississippi River Pool 2
The Mississippi River Pool 2 offers a very unique fishing experience to those who live in the Twin Cities. Being right in the heart of the Twin Cities is surprisingly a great fishery. The Mississippi offers year-round fishing for game species, although there is a trade off that all walleye and bass must be catch-and-release only.
The Mississippi River offers a different fishing experience compared to the lakes in the area. The river offers species like channel catfish, white bass, smallmouth bass, largemouth bass, northern pike, muskie, walleye, sauger, yellow perch, black crappie, white crappie, bluegill, sheepshead, common carp, and sturgeon. With all these species in the river it allows for the opportunity to catch all these different species in one spot, you'll never know what's on the end of your line.
"
Often just using a jig tipped with a minnow can catch just about any species of fish in the river and can offer a very fun fishing experience.
— Charles Hansen
The Mississippi River Pool 2 (Extends from the Ford Dam to the Lock & Dam 2 in Hastings) holds another surprise: a trophy walleye fishery. The restriction of keeping walleye allows for the walleye to grow to very large sizes. Anglers pull 30+inch fish out of this fishery all the time! With walleye 20-27 inches also very common, walleye in this fishery are abundant and known to be caught on jigs with live minnows, lindy rigs, trolling crankbaits, and soft plastic lures like mozies and ring worms.
Channel catfish, sheepshead, smallmouth bass, and crappie are also abundant. Channel catfish are often fished for with a large weight and a circle hook with either worms, chicken liver, or even cut bait. Crappie in the river can either be black crappie or white crappie. Often caught with slip bobbers, jigs with a minnow, on worms or even some walleye rigs can produce some numbers or crappie. Larger sized crappies around 12-15 inch crappies are common in the river as well. Smallmouth bass are often caught with jigs and a minnow, crankbaits, soft plastics, and live bait. Sheepsheads are often caught on accident and usually on a jig and a minnow.
Despite being an odd fishery for most in the Twin Cities, it offers some great fishing. Often just using a jig tipped with a minnow can catch just about any species of fish in the river and can offer a very fun fishing experience. The distinct features the river has and the surprisingly good fishing makes Mississippi River pool 2 a hotspot fishery in the Twin Cities.
Lake Harriet
Lake Harriet right in the heart of Minneapolis is a well-known lake by many throughout the state. With Lake Harriet being known for the bandshell restaurant, sailing, swimming, walking your dog around the lake. This seemingly dirty lake might surprise you. The lake is a great fishery and is actually spring fed. With Lake Harriet not being a very large lake and being quite round in shape, it makes up for it with its depth. With Lake Harriet reaching a max depth of 85 feet, it is a surprisingly deep lake for the area.
Fishing in Lake Harriet can oftentimes be very rewarding. Lake Harriet gets a lot of fishing pressure yet still holds many fish. Mainly fishing from shore, many people catch a variety of panfish like bluegills, crappies, perch, etc… Just a bobber, hook, and a worm seems to do the trick here. Bass fishing in here is prevalent as well, all along the shore casting out a wacky rigged worm or any kind of soft plastic will produce some fish.
Lake Harriet offers a large amount of small northern pike all throughout the lake, shallow and deep. Although some large northern pike lurk these waters as well. Casting out spinner baits, crankbaits, and swimbaits along the weedlines should produce fish. A live sucker minnow will produce fish as well.
Northern pike are not the apex predator in these waters. Lake Harriet is home to some monster muskies. Muskie fishing on Lake Harriet can be surprisingly rewarding. Lots of muskies are pulled out of Lake Harriet with some large ones too. Live sucker minnows seem to be a local favorite for these muskies, yet casting bladed baits like cowgirls along the sailboats seems to work pretty well. Trolling large crankbaits or spinner baits along the outside weedlines tend to be good. Focus on 11-18 feet of water for the most muskie action.
Walleye have been known to be caught out of this lake yet are a pretty rare catch out of here. Large carp are also offered in Lake Harriet to give a good tug on the end of your line. The gas motor restriction on Lake Harriet offers a bit of a challenge, yet if you shore fish the lake, or have a trolling motor, you're all set to go.
Lake Minnewashta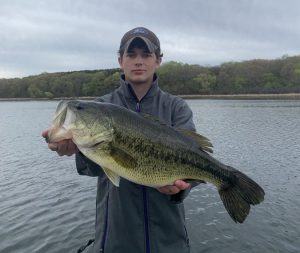 Lake Minnewashta, being a not-so-known lake, has some good fishing potential. Minnewashta is the perfect lake to take younger children out fishing in because of the incredible panfish fishing. Bluegill and crappie on Minnewashta continue to prove close to amazing. With panfish fishing best in the springtime, crappies from 10-13 inches are readily available with the occasional 14-15 inch crappie. Large numbers of bluegills from 8-10 inches are also abundant in Minnewashta. Right outside of the boat launch tends to be an amazing panfish fishing spot, and also by the beach in the sandy area is where the crappies usually spawn. On the western side of the lake, the points tend to hold large numbers of bluegills and crappies as well. Fishing crappies and bluegill near the docks on the north and northwest side of the lake tend to hold the larger sizes of fish.
Lake Minnewashta doesn't only provide a great panfish fishery; it also has some great bass fishing. Bass fishing on Lake Minnewashta is best right at the bass opener and in the fall. Very large bass in the 4-6 pound range are caught around these times on Lake Minnewashta. Right outside of the boat launch tends to be a good spot casting jerkbaits and wacky rigged worms. Bass can be found all over the lake, so really anywhere you have a good chance at catching some bass.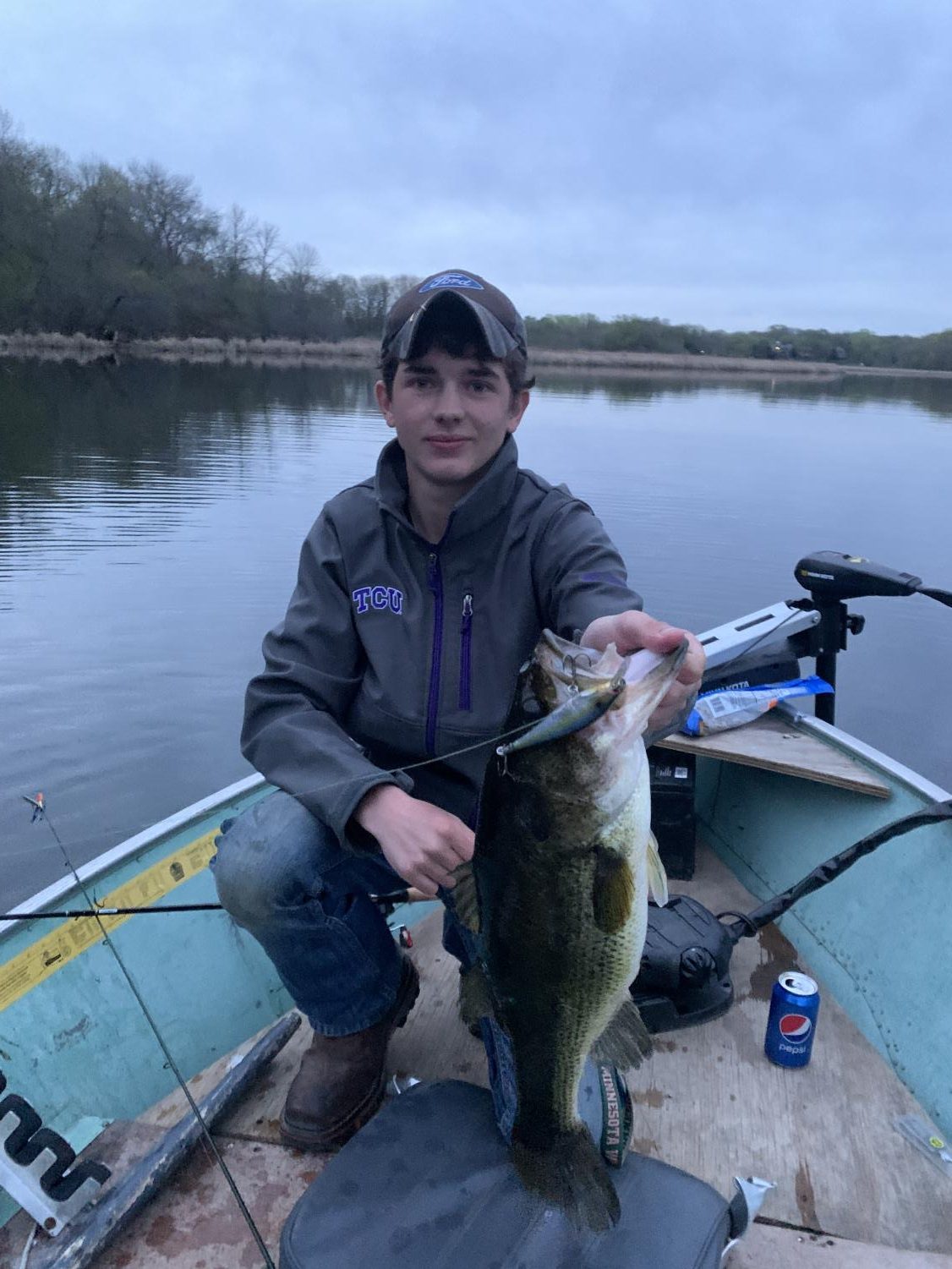 Northern pike fishing tends to stay about average on this lake with many 3-5 pound northern being pulled out of the lake. I have heard of some large northern pike close to 40 inches being pulled out of this lake as well. Minnewashta, being a decently clear lake and housing large sand beds on the east side, also provides a good bowfishing spot for carp. Bowfishing for carp on these sand beds can be pretty rewarding.