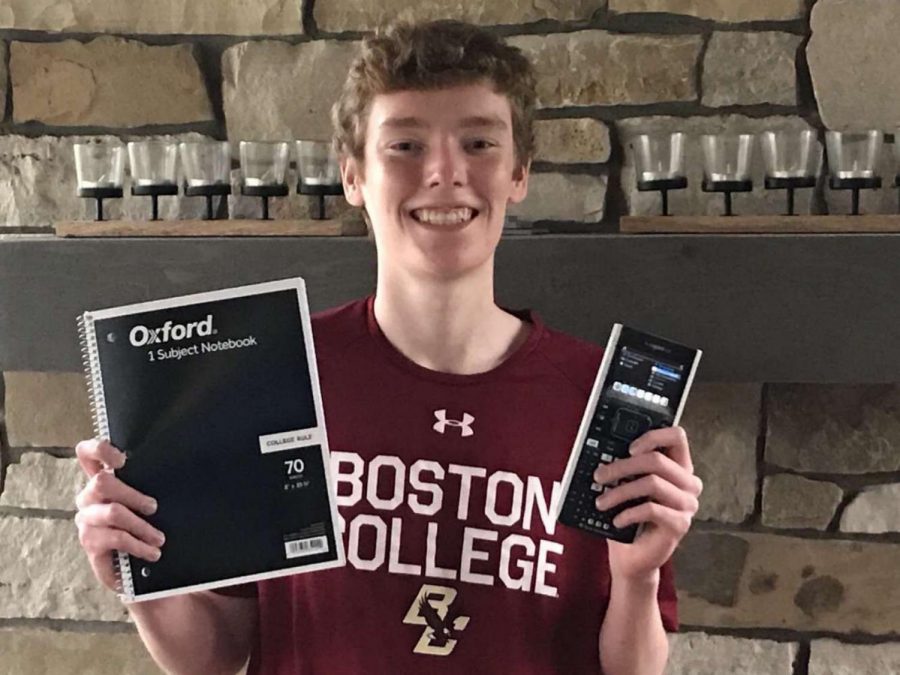 Photo courtesy of Dominic Vogel
Dominic Vogel
There was a time when Dominic Vogel wasn't quite six feet tall yet, and couldn't tell you the first 192 digits of pi. There was also a time when his most distinguishable feature was not his chiseled jaw, but instead the poof of red hair on his head. But now, Vogel is a BSM valedictorian for the class of 2020.
Vogel began his BSM journey in 2014 as a 7th grader in the junior high, but obviously didn't start his valedictorian journey until entering the high school as a 9th grader. This is when things got a little dicey for Vogel. "I didn't think I was going to get an A in Ms. Brew's honors english class in 9th grade. I also got a C on my first test in Bio Bob's class, so I remember having to work my way back up to an A," Vogel said.
When Vogel wasn't stressing about grades that any mother would be proud of, he was most likely honing his skills in some of his favorite classes. "I took AP Comp last year and I had Ms. Joseph and Mr. Hogan each semester, and I really liked them both. I learned a lot about writing and became a much better writer," Vogel said.
Vogel has also received praise and renown in BSM's math sector, as he was on the math league team for four years. Mr. Dan Bowler has been given ample opportunity to see Vogel's growth as his math teacher and math league instructor. "[Dominic is] meticulous, super neat, and very thorough. Math is his thing. In four years we've had a few temporary setbacks but Dominic has always been turning in beautiful work," Bowler said.
Not only was Bowler Vogel's math teacher, but also his junior high baseball coach. He recognizes Vogel's prowess as a left-handed prodigy because of his time coaching him in baseball. "[Vogel] is quite the crafty lefty, and a good first baseman," Bowler said.
Vogel plans to continue his achievement-studded academic career at Boston College studying economics. He is excited to start the next part of his life, and thankful to BSM for preparing him for it. "I think that [being valedictorian] is a good reflection of my hard work and of the support that this community has given me in my learning," Vogel said.