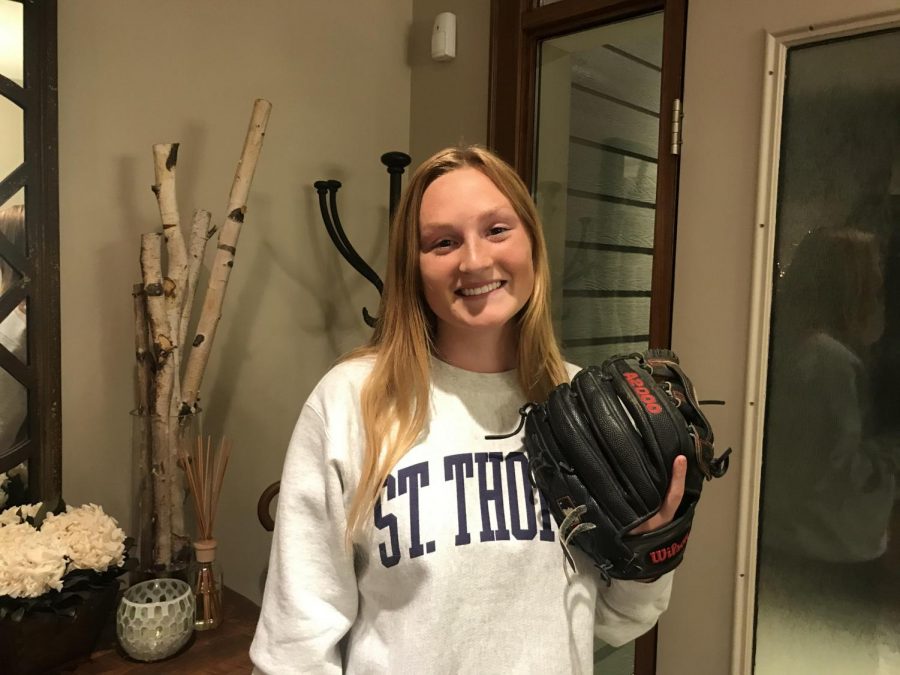 Sarah Houlihan
Throughout her six years here at BSM, Sarah Houlihan has taken advantage of various opportunities that were provided to her and have thrived in each of them.
Houlihan's two older siblings, Maddie Houlihan (15′) and Alex Houlihan (17′) attended BSM before her. They participated in softball and baseball where they succeeded and made varsity early in their BSM years. So, when Houlihan arrived at BSM, there was a lot of pressure put on her by softball coaches to live up to her sibling's achievements. "A lot of coaches would critique my playing by comparing me to my sister and remind me that she would never make those mistakes," Houlihan said. 
Over her five years of playing varsity softball at BSM, Houlihan learned how to be comfortable with herself and what she has to offer. She has learned to look up to what her sister and brother achieved, while understanding that her own achievements and style of play are also something to be proud of.  "I have grown to be more confident in myself. Through time I have learned how to ignore unfair comparisons," Houlihan said.
Aside from softball, Houlihan delved into many different activities at BSM. Another sport she spent much of her time playing was volleyball. She tried out when she was a seventh-grader and continued playing until she was a sophomore. She decided to stop playing after that year because she wanted to focus more on softball and school.
Outside of the world of sports, Houlihan has joined various clubs at BSM that highlight her character. Since freshman year, she has been an active member of RKVC and has devoted a lot of her time to caring for those less fortunate than herself. "I think that volunteering is extremely important. It puts humanity back into people," Houlihan said.
Next year, Houlihan will be playing softball at the University of St. Thomas. "I have always loved playing, and at the same time, I found a home at St. Thomas where I could continue to play and study what I wanted to at the same time," Houlihan said.
Favorite Restaurant: Chick-fil-a
Favorite Food: Spaghetti 
Favorite Movie: Tommy Boy 
Favorite TV Series: New Girl
Favorite Song: Say So Remix
Spirit Animal: Zebra
Favorite Activity/Sport: Softball
Favorite App: TikTok
Favorite Meme: Spongebob 
Favorite Book: To Kill a Mockingbird 
Advice during quarantine: Keep time busy with activities that not only pass time but are productive too. Also, take time to take care for yourself.