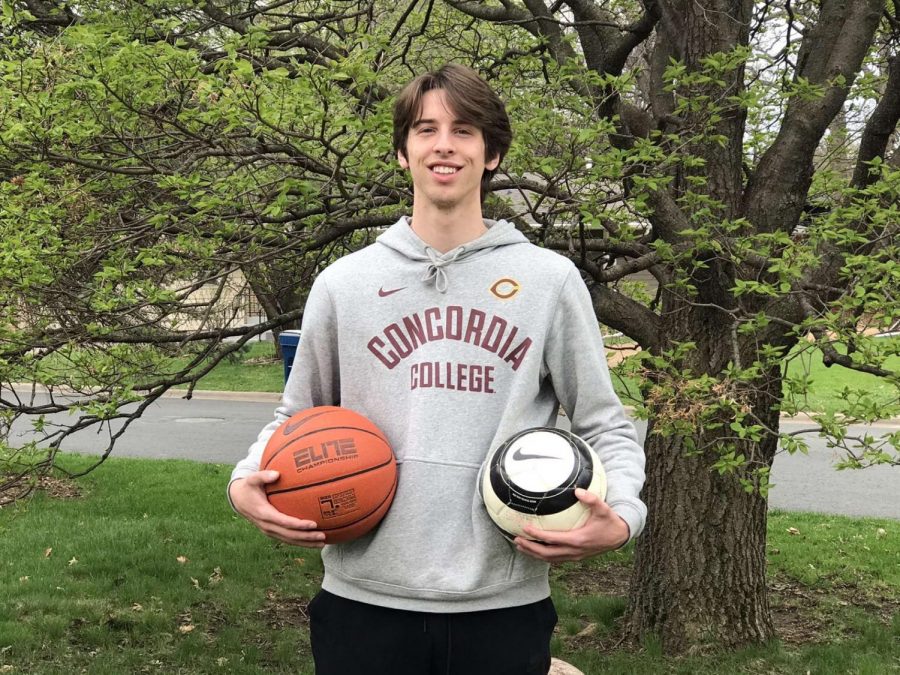 Nels Birkeland
Nels Birkeland is a prime example of an active, passionate, and hard-working Red Knight; he spent six years in the BSM community, becoming a star inside the Haben Center and on the soccer field, while also finding a passion in becoming an Eagle Scout.
Birkeland got involved with BSM's basketball program becoming a water boy and manager for four years before becoming a seventh grader in the junior high. "I was able to watch good basketball and be around good kids which really made me excited to come to Benilde and play basketball," Birkeland said. 
Just a couple years after becoming a Red Knight, Birkeland was put on the varsity roster to play for that team he had helped prior. 
After six-plus years of being in class at BSM, Birkeland's main takeaway is to always stay connected and plugged in. "Honestly, you gotta do your schoolwork. The nice thing about Benilde though is that it's not really stressful. Don't worry that much about getting everything done, teachers are understanding and everything will work out," Birlekand said.
"But if I'm going to take away one thing from Benilde, it would be the senior soccer season," Birkeland said.
After spending a significant portion of his high school career with the same group of friends from soccer, some memories from being with the team will last for a long time in the future. "This most recent senior soccer season was the most fun I've had with the team. We started out the year where we found this zucchini in Minneapolis and brought it to a girls' soccer game, and it brought good luck. We went up to Ely for our team bonding trip and stayed in cabins which was a lot of fun spending a lot of time with the guys going canoeing," Birkeland said.
While the soccer season may not have gone the way they would've liked, there were some notable games in which they succeeded. "Beating De La Salle in the section quarterfinals and tying Saint Louis Park becoming the only team to tie them… if I'm going to take away one thing from Benilde, it would be the senior soccer season," Birkeland said. 
Mr. Dave Platt coached the varsity soccer team that Birkeland played for. Platt was able to witness Birkeland's improvements not just as a player, but also as a leader for the team. "Nels Birkeland came to the soccer program and to our team way ahead of the curve in terms of his personal development and growth. Not only is Nels a natural-born leader, but he is also one of the most mature and most true young men I've had the honor of coaching over these many years; with Nels, you get exactly what you see, which is a thoughtful, passionate, driven, hard-working, caring leader and friend … We were truly blessed to have Nels as a teammate and a leader these last three years, and he will most surely be missed," Platt said. 
While balancing basketball and soccer with extracurriculars like RKVC, Birkeland managed to pursue his passion in becoming an Eagle Scout. "The biggest thing about getting your Eagle Scout Award is getting to do a project that serves a community … I made benches for the little knights at Benilde, and I finished the project with my mom," Birkeland said. 
Next year, Birkeland is carrying on his family's legacy and attending Concordia College in Moorhead, Minnesota where he plans to play basketball and get into business and accounting. "My grandma went there; my grandpa went there for one year and then transferred, and my cousin currently goes there. A bunch of family from my dad's side has graduated from Concordia, probably about seven or eight people," Birkeland said. 
Favorite Restaurant: Taco Bell
Favorite Food: Cereal (no particular kind)
Favorite Movie: Ferris Bueller's Day Off
Favorite TV Series: Ozark 
Favorite Song: "American Kids" by Kenny Chesney 
Spirit Animal: Giraffe
Favorite Activity/ Sport: Volleyball 
Favorite Meme: "this is fine" with fire in the background 
Favorite App: TikTok 
Favorite Book: Toughness by Jay Bilas, Catcher in the Rye by J.D Sallinger
Advice during online school/ quarantine: Try to make sure that you're staying close with the people you really enjoy and are talking to because you should try to hold on to the high school memories as long as you can. Create new habits like bike riding, running, and working out.