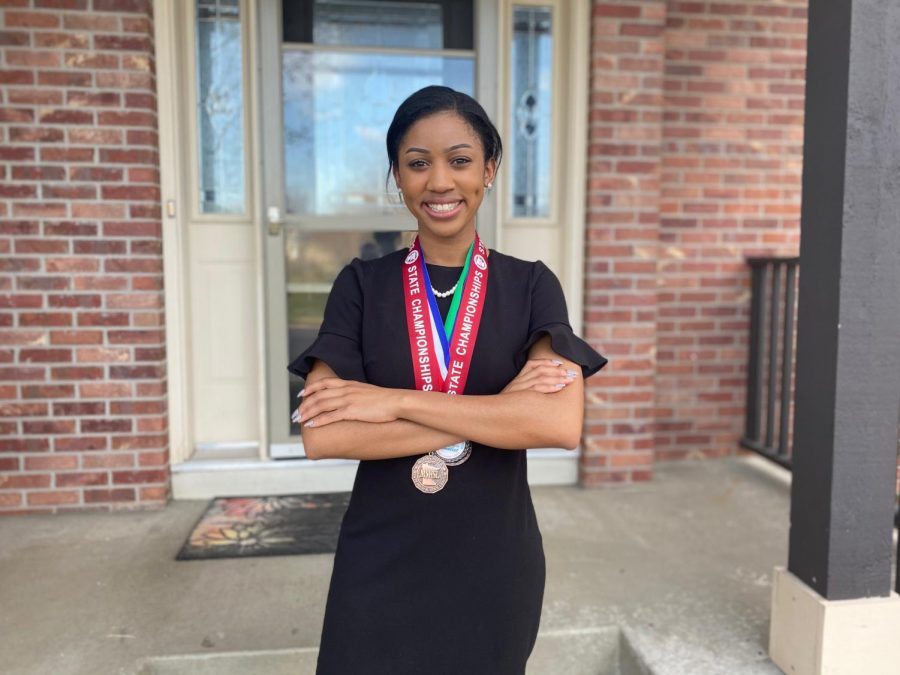 Breah Banks
If you're ever looking for Breah Banks, look for the girl in a black suit and pearls––dressed for her next competition.
In seventh grade, Banks followed in her older brother's footsteps and joined the speech team. She hoped to simply improve her public speaking skills; however, the activity soon morphed into an integral part of Bank's life. "In seventh grade I was this small kid, running around these huge high schools trying to figure out what rooms I'm supposed to be competing in. Throughout the years, it turned into a passion about speaking on subjects in which I was passionate about," Banks said.
Banks has used speech as a platform to bring awareness to issues that she cares about. Her sophomore year, she performed a piece based on the novel The Hate You Give by Angie Thomas, which shed light on police brutality. Junior year, she competed in a duo alongside classmate Noah Layton which tackled civil rights issues. This past season, Banks presented a piece that covered the education gap of African Americans. "I always strive to do pieces that are important to me and to talk about topics that are important to me or have an influence upon my community," Banks said. 
Banks also found a passion for mock trial during her time at BSM. While she was initially drawn to the team for food-based reasons, Banks grew greatly throughout her time in the sport. "I first got involved in Mock Trial because they were actually offering food for the first interest meeting…and that was obviously super intriguing as an eighth-grader. I was hungry, after school, waiting for my mom. But I really just fell in love with everything that it offered, especially the law part of it. That became a big interest for me and that led me to what I'm pursuing in college, with a political science major," Banks said. 
Along with mock trial, Banks has pursued her interest in law through multiple externships. During the summer going into Banks's junior year, she spent four weeks with Honorable Mark J. Kapplehoff in Juvenile Court. "It was awesome to just sit, watch the proceedings, the motions, to be able to ask his clerks questions and to just be immersed in that area," Banks said. 
The next summer Banks entered under Honorable Susan Richard Nelson for three weeks in the United States District Court for the District of Minnesota. "I observed court proceedings, including trials, criminal proceedings, and motion hearings," Banks said. 
Next year, Banks has been offered a full-tuition scholarship and Spelman College in Atlanta, GA. There, she plans to major in political science and minor in psychology. "I hope to become a practicing attorney. As of right now, I'm interested in becoming a criminal defense attorney and working with wrongly-accused victims," Banks said. 
Favorite Restaurant: Chipotle 
Favorite Food: Mac and Cheese
Favorite TV Series: Scandal
Favorite Song: "Radio" by Beyonce
Spirit Animal: Don't have one
Favorite Activity/Sport: Speech
Favorite mMeme: Two real housewives fighting and cat
Favorite App: TikTok
Favorite Book: Becoming
Advice during online school/ quarantine: Keep the bigger picture in mind.