Christmas Cookies: The good, the bad, the festive
Christmas cookies are essential during the Christmas season. With so many unique options, everyone is bound to have different opinions on the taste and appearance of each cookie. Two seniors, Maggie Murnan and Morgan Anderson, review six of the most popular Christmas cookies.
Cutout Sugar Cookies
The Christmas cutout sugar cookies––topped with frosting and sprinkles––are an essential Christmas cookie. Sugar cookies shaped into trees, ornaments, stars, Santa hats, and candy canes from cookie cutters are the classic image of a Christmas cookie. Though these cookies are necessary to have the full Christmas experience, they definitely aren't the tastiest. The simple sugar cookie, frosting, and sprinkles combination just do not compare to the taste of other Christmas cookies. The cookies can be relatively bland, and there is nothing exciting to them. Simply put, cutout sugar cookies are only needed for their Christmas aesthetic.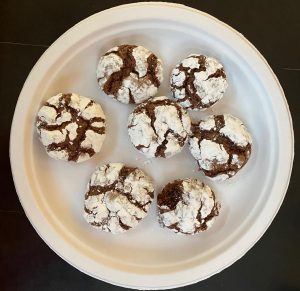 Chocolate Crinkle Cookies
Chocolate Crinkle Cookies are not the most popular Christmas cookies nor the cookie that immediately comes to mind when one thinks of Christmas. However, almost everyone who knows about these cookies is a huge fan. The rich chocolate cookies, fresh out of the oven, sprinkled with powdered sugar are a perfect sweet treat during the Christmas season. Along with being delicious, the cookies are visually appealing and a terrific addition to any Christmas cookie platter.
Peanut Butter Kiss Cookies
Arguably the most overrated Christmas cookie, peanut butter Hershey kiss cookies fall short of everything: appearance, taste, and texture. How do you bite into this cookie? If you bite halfway through, you get a mouthful of chocolate with just not enough peanut butter cookie. If you bite around the edges, you'll find yourself left with a big Hershey kiss, and what's the point of putting the two together if you're just going to eat the cookie all at once and eat the chocolate kiss afterwards? The ratios are all off. The different textures of the cookie and the kiss don't mesh with each other.
Snickerdoodles
Snickerdoodles are unique compared to other Christmas cookies due to their year-round availability. You might see snickerdoodles being sold at stores or restaurants during other seasons, but these cookies are the best during the Christmas season. Sitting near the Christmas tree, cozied up next to the roaring fire, with a warm snickerdoodle in your hand is the best way to enjoy the cookies. The cinnamon and sugar combo of a snickerdoodle can't be beat. Snickerdoodles are perfect with a warm mug of hot chocolate or a cold cup of refreshing milk.
Christmas Wreath Cookies
Christmas wreath cookies take a different approach on the classic Rice Krispie bars. A combination of melted marshmallows, green food coloring, and Frosted Flakes are molded into wreath-shaped cookies, with little red hots for both an added spice and decor on the cookie. Though I think everyone can agree these cookies are both festive and decorative, they may not be the most visually appealing. Not everyone is willing to stuff their faces with a green-colored cookie. Though the taste is good, there is nothing too special about them. Let's not stray too far away from good ole' reliable: the classic Rice Krispie bars.
Gingerbread Cookies
With ginger being often thought of as an elite Christmas baking flavor, there is no denying the necessity for a gingerbread man paired with a Christmas meal. Baking gingerbread houses have been a tradition passed down from many generations. The ginger cookie paired with frosting and just about any candy for decor, these cookies both look and taste delicious. As undoubtedly the most classic Christmas cookie there is, the gingerbread cookies live up to all of their expectations.
Leave a Comment