New atrium and learning space opens in the school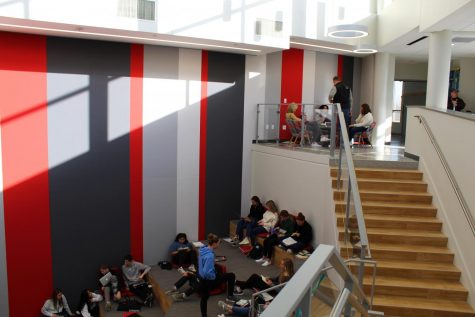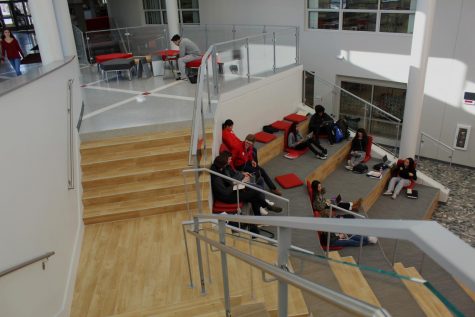 On January 22, the Red Knights started off second semester and were introduced to a brand new learning space where students can enjoy science rooms and engage in an atmosphere of the student life.
The science rooms include a unique addition. A model of the periodic table is pasted on the opening window to two of the rooms. Many students pointed out that the table itself is readable to the people outside of the classroom and not to the students learning those elements inside.  "I think if we were going for the goal to be a more aesthetically pleasing look for the space, then it would make sense that the periodic tables to be facing outward but if we were going for a more practical use in terms of classroom and teaching, it would make more sense to have the periodic tables facing inward," senior Chris Wison said.
This amphitheater style workspace sets a peaceful setting with background noises of far away conversations. The learning space gives room for the morning sun to shine into the atrium and also room for natural light to shine over the students. "I like the tall ceilings, it makes the space feel very open and enjoyable to work in," junior Kelly Dempsey said.
The new area provides a comfortable learning space for the students during their free time. Cushions, chairs and many tables are set up to help students complete their work in this area. The amphitheater also sets the perfect setting for future college representatives and guest speakers that will embrace and provide the students' many opportunities to learn further material and information for classes.
"
I like the tall ceilings, it makes the space feel very open and enjoyable to work in"
— Kelly Dempsey
While being a setting for teachers and speakers to present material to classes, it also has the potential to thrill the sports fans with a TV that could possibly provide entertainment in the future months like the tournament of March Madness. "My guess is we will have it on in there, but if it is not kept a quiet workspace it will likely go away. My guess is it'll be played in the commons, help desk, and maybe theater if it isn't booked (lunch period). Trust me, I'm working on it," Tech Administrator Bill Cheney said.