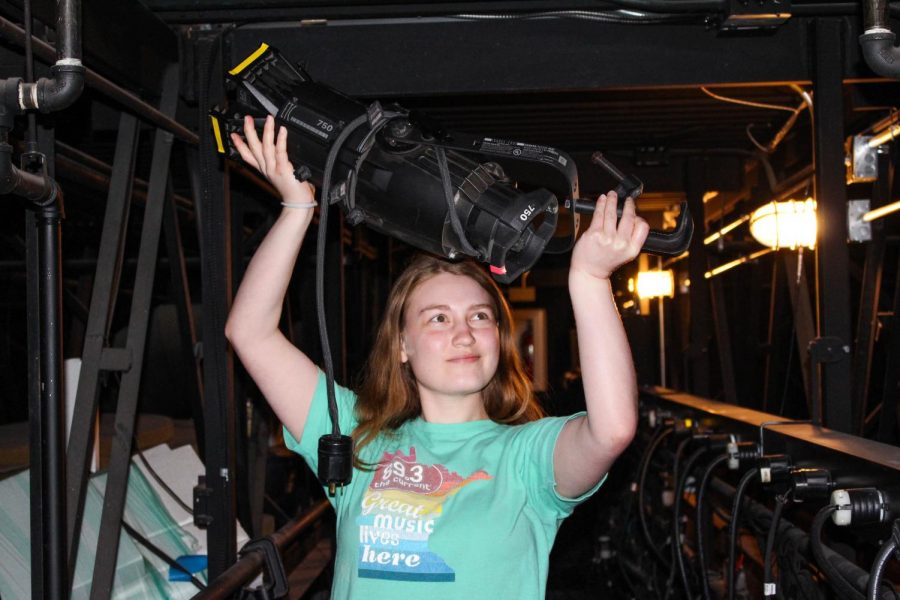 Drew Check
While many students leave the building any time from 2:40 to 5:00 on a typical school day, Drew Check frequently experiences being the last student in the school. Being the heart of the technical theater team at BSM, sometimes she is even the last car in the parking lot. Her commitment to her work has finally been recognized with the title of 2018 Technician of the Year from the BSM theater department.
Her skills as a lighting electrician aren't only contained within the BSM community. "I work at Valley Fair as an entertainment technician, so a lot of that includes setting… various horror mazes, which is kind of fun but also a little creepy if you get left alone in a big building of horrors. It's kind of terrible in that way, but it's also a big family which is awesome," Drew said.
Despite her conflicting feelings about her work at Valley Fair, Drew continues her work with lights at the Chanhassen Dinner Theater. With all of her experience, it should be no surprise that Drew will be pursuing technical theater at the University of Minnesota, Duluth next year.
"
Even though Drew doesn't say much, she is literally the most powerful woman ever."
— Claire Shinners
Considering the number of theatrical productions she has been a part of, it is only natural that Drew has absorbed different parts of different musicals. However, one musical in particular lives in a special place in her heart: "The Drowsy Chaperone." In fact, she knows the entire beginning monologue of the play. "The problem with "The Drowsy Chaperone" is that there's a beginning, but if you only listen to the soundtrack you don't get the real beginning [which is] 'I hate theater. Well its so disappointing isn't it? You know what I do when I'm sitting in a darkened theater waiting for the show to start? I pray.'" Drew said. Roughly five minutes into the musical she cut herself off, but she could have continued to recite the lines for much longer.
Her passion for musical theater may have been influenced by the love of music she developed at an early age. Before she began high school, Drew knew how to play the piano, clarinet, saxophone, and guitar. Even though she started playing the violin only a few years ago, she can be seen playing the violin in the orchestra during Mass. However, her musical interests aren't contained to the classics. "My friends and I all were into the music scene; we went to a lot of concerts and stuff. We all played different instruments, and so we were like, 'Hey, why not be a band?'" Drew said.
Even with her involvement in theater, music, and her position of Red Knotes manager, Drew manages to find time for her various other interests that make her truly fabulous. In place of taking any English or art elective her junior year, Drew instead took Ecology, which she maintains was her favorite class at BSM. "I love the outdoors and now whenever I walk around I can be like 'I know the scientific name of that random tree.' Everyone hates it so much," Drew said.
Drew's outdoorsy nature contributes to her rugged personality. Not only is she an electrician and a nature nerd, she uses her strength in only the best ways. "I can rip an apple in half with my bare hands," Drew said.