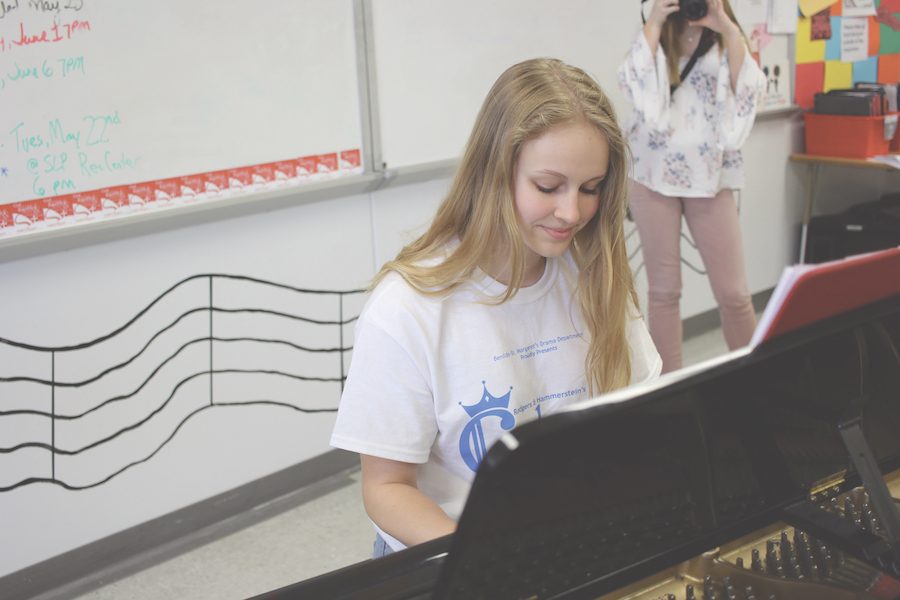 Ava Smithmier
For four years, Ava Smithmier has shown her talents across a wide range of activities. Whether it be leading the Knightettes dance team to back-to-back state championships or singing in the choir at mass, Ava's contributions to the BSM community have been evident throughout her high school career.
Since she was 3 years old, Ava has taken piano lessons. Ava credits her success in music as a tool that has helped her in many of her other activities. "My whole family has been really involved in music, so it's shaped a lot of my family life because we do a lot of stuff involving music. It helps a lot with other music stuff that I like to do like Red Knotes, choir, and the play because it taught me to read music well, so it helped make a big difference," Ava said.
"
Ava is a tremendous person because she is positive and fun, and she's an aca-pal."
— Marley Ballinger
Coming to BSM as a freshman was hard for Ava, but meeting people through dance team helped make her transition a lot smoother. "I didn't know anybody coming in, but thenknowing people on the dance team and having older girls say hi to me in the hallways definitely made me a lot more comfortable coming in [to BSM]," Ava said.
After being on JV for her rst two years of dance, Ava moved up to varsity during her junior year. In addition, Avawas named a captain, and she held that title for her last two years on the Knightettes. "I've learned di erent things from[dance team] every year, but, especially my junior and senior year, being captain, that gave me a whole new perspective on what's it's like to be on the team. Even though practices get really hard, you're being watched more your junior and senior year, so you have to be the one setting the exampleversus being the ones getting motivated by the older girls,"Ava said.
Another activity that Ava has been involved in is choir. After participating in concert choir and chamber choir for three years, Ava decided to join the Red Knotes for her senior year. She's glad that she had the opportunity to growcloser to people in choir. "Had I not done Red Knotes, I would've never gotten to know a lot of thepeople in it. I'm really glad that I was apart of it because it's a whole new group of friends, and it's fun cause we all like musicand singing, so we get to enjoy it together,"Ava said.
To end her senior year, Ava decided to participate in the spring musical. Although she wishes she could've done it sooner, Ava is grateful she had the opportunity to do the show before graduating."I'm so glad that I got to do [the musical] before leaving high school, and it's been a whole new experience because I've gotten so used to dance practices and routine schedules, so it's just a totally new way of working and I liked it a lot," Ava said.
In the fall, Ava will attend the University of San Diego. For underclassmen, Ava suggests that students seize any opportunities that they want to pursue. "Try new things. As soon as you feel like doing something, do it. Don't hold back," Ava said.