Senior Flyers player Johnny Khalil returns to the ice after injury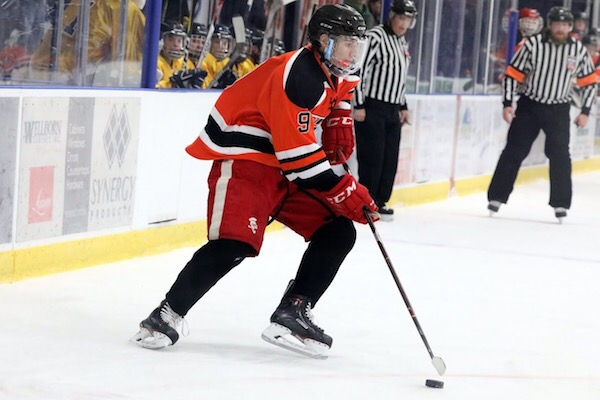 After months of recovering from a broken wrist, BSM senior Johnny Khalil of the SLP Flyers plans to return to the ice. As of Thursday, February 8, Khalil was cleared to play for the few short weeks left of his senior season.
Khalil—along with his teammates, coaches, and fans—couldn't be happier about his return. The fans from both BSM and St. Louis Park High School are excited about Khalil's comeback, many pegging him as the Flyers' most valuable player. "I'm most looking forward to being able to be with the boys, and getting a big student section for most of the games," Khalil said.
Khalil broke his wrist during a Junior Gold A tournament after forcefully colliding with another player. After months of pain, rest, and rehab, Khalil is more determined than ever to return to the ice to finish out his two-year hockey career with the SLP Flyers. "Breaking my wrist made me realize how much I missed [hockey] while I have been out," Khalil said.
Watching from the sidelines for several games has been difficult for a motivated player like Khalil, so he has been working tirelessly to return to the game he has loved for so long. "I have been doing physical therapy and a lot of wrist exercises to strengthen my wrist," said Khalil.
After healing from surgery, Khalil has been focused on regaining his full range of motion back in his wrist. "I have been participating in practice the past few days, and it doesn't hurt when I shoot the puck, it's just that my wrist doesn't move like it used to," Khalil said.
Khalil is thrilled that he has the opportunity to play for the final weeks of the season with the Flyers. "I feel confident that I can help the team start winning a lot of games and hopefully make a push to win the State Tournament," Khalil said.
Winning the JGA state tournament has been the team's goal for past several seasons, and Khalil is hoping that his return will help lead his team to victory. Only after, however, accomplishing his personal victory of returning to the ice.