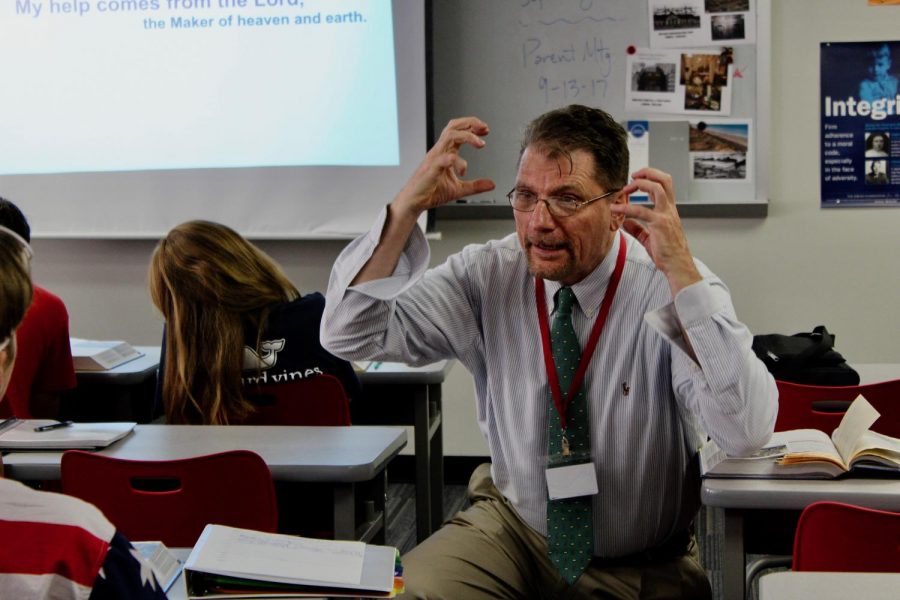 Thomas Klein – History
Coming from Hopkins High School, with multiple years of teaching under his belt, new history teacher Mr. Thomas Klein (otherwise known by his infamous nickname TK), is more excited than ever to finally be walking through the halls here at BSM.
As the summer came towards an end for Klein, he found out quite quickly that he was going to be a teacher here this year. Two days before teacher workshops began at BSM, he's found out that he was going to be one of the newest additions to the community. "I was so excited when I found out I was going to be teaching here. I still am excited. There's a great feel to the school and it's a really neat community," Klein said.
Despite the fact that he is only teaching three World History-Foundations classes this semester, Klein has taught everything from honors world religion to classes focused purely on the Middle East. "I taught a course on the Middle East and I love teaching stuff like that, but I also really enjoy history," Klein said.
His first teaching job was at Centennial Junior High for two years. Then he went over to a school in Minnetonka before serving at Hopkins High School for 18 years.
In spite of the fact that he has only been in the halls for a few weeks, Klein has already seen a great contrast between BSM and the other schools he has taught at before. "There's a lot of pride here; there's a lot of pride in being a Red Knight. There's more cohesion and unity in terms of what we're all about. Obviously, kids have a lot of fun here, but they still take school pretty seriously. They still want to do well in school," Klein said.
Even though he is a first year teacher here at BSM, Klein is behind the scenes to one of the most successful sports teams in the Red Knight community. As the upcoming winter approaches, he will be serving as his long-time friend (and now colleague) Ken Pauly's assistant coach to BSM's boys' hockey team for the tenth year in a row. Pauly and Klein have a long-running history with each other on and off the ice. "Ken Pauly and I have been friends for about 25-30 years. Ken played football with my younger brother at Wayzata and I played hockey with his older brother at Wayzata," Klein said.
When Klein is not at the hockey rink or in the classroom, he can be found at Paceminterris, a silent retreat center in St. Francis, MN. Paceminterris is Latin for "peace on Earth," and peace is exactly what he finds when he goes up there. While at his retreats, he likes to read, take walks on one of the many walking paths they have there, and pray. "I go there quite regularly for a getaway. It energizes me, so I can be really energized in class," Klein said.