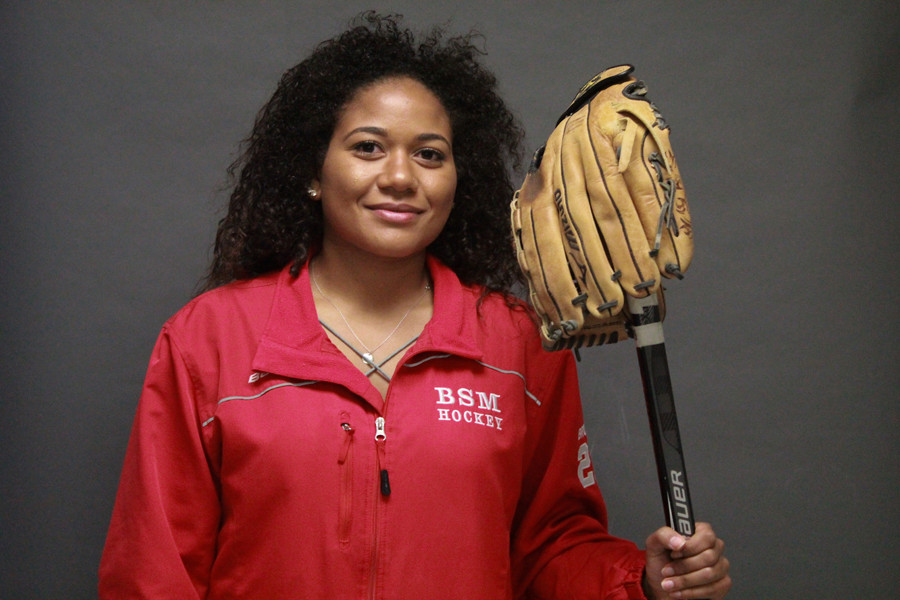 Sedona Brown
Whether it's for her contagious laugh, amazing hair, witty comments, or athletic ability, most people in the BSM community, and everyone in the 2017 class, is familiar with Sedona Brown in some capacity. Yes, Sedona is a standout player on both the varsity hockey and softball teams, and yes, she was a manager for the State Championship winning football team this year. However, these notable achievements are not what makes Sedona Brown a tremendous and integral part of the BSM community. Her dedication, perseverance, and generally incredible presence are a window into her true fabulousness.
Sedona has never been one for laziness or an inactive lifestyle. Since she was a kid, Sedona put her passion for sports at the forefront of her daily routine. "My mom always asked if I was sure I wanted to play this sport or do this camp and I always said "Yeah, keep it coming." I wanted to do everything. There were times where I would be doing three hockey camps a day and then have a double head softball game at night, and I'd be wiped out by the end of it, but I always enjoyed that," Sedona said.
While the intensity of a sport-filled schedule forces Sedona to work hard every day to stay on track in school, the payoff is a community of people who both understand the lifestyle and make it interesting. "Hockey girls are definitely a species of their own. Most of us are aggressive, and we're all kind of weird. In softball, the girls are laid back, but there's definitely something about hockey girls. It comes out in everything I do. I'm determined and will do anything to get the end result, and that comes from hockey," Sedona said.
Even when Sedona isn't actively playing on the rink or field, athletics are a crucial part of her identity as she was a manager of the boys' football team during her limited free time this fall. "I'm so happy I chose to manage the team. That was honestly one of the things I will remember most about high school, and it was the best community I was a part of, feeling-wise. Even the moms would come up and talk to me. Also, I always knew boys can eat a lot but I never knew to what extent. It's a lot," Sedona said.
Clearly, Sedona brings insane levels of both athletic ability and drive to BSM, but another typical Sedona trait that is valued by basically everyone is her highly contagious laugh. "My mom thinks [my laugh] is annoying, and my family all think it's annoying, but people at school and my friends all think it's funny. It has many variations and is different every time. It's not something I can control, but when people say it makes them laugh, it makes me feel like something simple that I do help other people which is kind of cool," Sedona said.
"
When she laughs, everybody turns around, sees she's laughing, and then proceeds to laugh with her. I think that's very admirable."
— Claire Alme
Obviously Sedona has notable features that people use to characterize her, but there are also traits that she holds closer, but still form who she identifies as. "I love animals. I've always had a weird obsession with basically every animal, and if I see a Netflix documentary on a whale or something I will most likely watch it. I get on kicks and get into certain things for about six months. Currently, I'm on Criminal Minds and everything about criminology. I also really wanted to be in the Marines because my grandpa was a Marine. I wanted that for the longest time," Sedona said.
After coming to BSM for high school, Sedona found a group of friends who helped guide her and shape her experiences in a way that no sport, team, or six month obsession ever had. By finding people to broaden her horizons, Sedona became the person that we all know and love today. "They help me and my ideas grow. I was kind of close minded when I came into BSM since I was sheltered at a tiny Catholic school. Then, I came here and met my friends and they came from different areas. I learned a lot about other people and situations. Basically, they taught me acceptance," Sedona said.