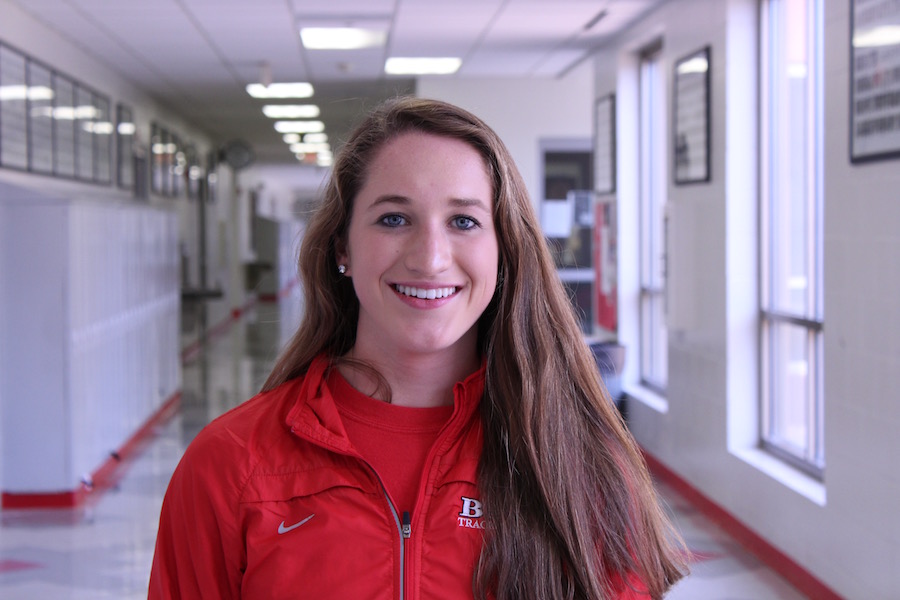 Megan Cornell
Megan Cornell loves country music, her spirit animal is a dog, and she is quite possibly the most humble person in the class of 2017, if not the world. After she committed to play NCAA Division 1 hockey at an Ivy League school, she did not announce her commitment through a tweet or a ceremony, but rather, when a classmate asked her where she was going, her response was a quiet, "I committed to Dartmouth last week."
Although Megan might not be the first person to start a power clap at the end of mass or be the one sprinting to get the rst chicken fried steak, her sense of dedication and passion while never expecting recognition or celebration is what makes her truly tremendous.
As a captain and varsity member of both track and BSM girls' hockey, Megan is a team player. When asked what it means to be a Red Knight, her face lit up. "I think one of the biggest parts of being a Red Knight is the community. It's amazing how many students are involved with the school in some form of extracurricular [activity].. Whether it be sports, speech or debate, the musical, volunteering, or one of the various clubs, the majority of the kids are involved in something. Being a Red Knight is finding a passion and getting involved in the community," Megan said.
Megan practices what she preaches, having started hockey at age 6 and soon after track at age 8. Her involvement in sports has formed her personality as a driven and intentional person who follows through on her word.
When asked how to describe herself, Megan blushed and stammered for words, but after a minute of thinking she came to realization. "I'm extremely clumsy, I'm a little more quiet until people get to know me, and I think I'm nice," Megan said. Her humility is so strong that at times it is even humorous. The entirety of her interview was lled with her blushing at questions about her achievements and giggling when asked about her personality.
"
Megan Cornell is always positive. She is de nitely the hardest worker on the hockey team on and off the ice."
— Grace Peluso
When classmates were asked about Megan's personality their responses were: kind, quiet, but when she speaks it's profound, and never has said a mean thing.
When Megan isn't busy with practice, dryland, or conditioning, she spends her time volunteering with the elderly. After being a ected by her grandmother's move into a retirement home, she is intentional with how she treats others. Her sense of passion is apparent in everything that she does, from speaking thoughtfully in class discussions to her faith and involvement with campus ministry. Megan is the kind of person who, when she asks you how your day was, genuinely wants to know.
Megan has been on the track team for four years and her coachs have had the privilege of seeing her growth as a person and as an athlete has been incredible. Although she has always been soft spoken, Megan is a force to be reckoned with when there is a large task at hand or a race to be won. She leads the girls' sprinting team and never fails to stay late to practice hand-o s or do the extra sprint to ensure the team is at its best.
Next year, Megan will be found at Dartmouth College in Hanover, New Hampshire, on the big green women's hockey team. "I'm so excited [to play hockey at Dartmouth]; I loved the team and the coaches,gg and I'm so grateful to be able to play with them next year," Megan said. Beyond her hockey commitment she plans on getting involved with volunteer work and with other clubs on campus. And although Megan will physically leave the halls of BSM, she has de nitely left a mark. From her mom who works for Taher–and will let you go through with a negative balance–to the BSM track records with her name engraved on them in the Haben Center, Megan Cornell is a name that BSM will never forget.