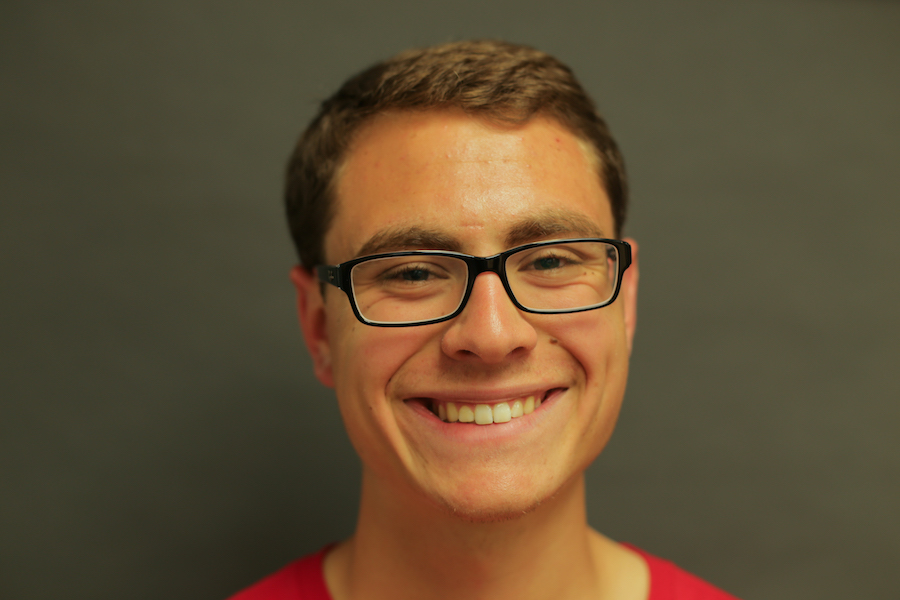 Mark Racchini
There is seldom a day when one strolls down the main hallway without hearing an enthused "Hiiiiiiiii!" or explosive "Yeaaaaaaah!" from perhaps the happiest person in the school: senior class president Mark Racchini. While widely regarded as a bubbly presence in the halls, Mark's involvement as a leader for both BSM and his wider community are why he truly embodies the word "tremendous."
Upon meeting Mark, you may find him to be just your average guy. He enjoys mowing the lawn, loves biking and fishing, has a job at Centennial Lakes Park, frequently listens to Zach Brown Band, and when asked about his greatest fear replied: "The devil kinda scares me." Mark also works out at LA Fitness because Lifetime is too expensive — and that's another thing about Mark, he's always on the move. He can frequently be found running at the track, around the chain of lakes, or to a class he's more than a little late to — and when Mark tires of using his (often bare) feet for transportation, he's more than happy to ride around in his Subaru, or until recently, a 1998 Grand Caravan with an Italian flag painted on the hood. Nicknamed "The Italian Stallion," the now-deceased car had a personality and reputation that accurately reflected the man that drove it: fast, loud, and incredibly unique.
Mark is also one of the most involved Red Knights in the class of 2017. In addition to serving as senior class president, Mark participates as a student ambassador, runs track, is a member of Link crew, Medical Club, RKVC, and is a captain of the cross country team. Outside of school, Mark is regularly running Busy Bee Foods, an organization founded by alum of '15 Peri Warren (Class of 2015) and co-founded by Mark and BSM senior McKenzie Dunleavy. Busy Bee is dedicated to bringing healthy, organic foods to families in North Minneapolis, a goal Mark has increasingly become involved in. "I initially helped with the deliveries and I helped order the food; Peri was more in charge of taking the orders for the first years. I was kind of the person who would order the food and I'd get the deliveries done, but since this past Christmas I've actually been doing it all since Peri went back to Occidental," Mark said.
Although managing an organization while participating in athletics and academics is difficult, Mark lists it as one of his greatest accomplishments: "It's been a lot of work, but it has been really rewarding. I'm really proud of all the volunteering experience I've gained in high school. I think BSM does a really good job of introducing the service-learning aspect, so I'm happy about that and I'm proud of all the things I've learned through that," Mark said.
After he graduates, Mark will attend Marquette University in Milwaukee, and in the future hopes to work for a government agency like the State Department. However, for the moment, Mark is still a Red Knight. As president of the senior class, he's come to truly appreciate the family at BSM: "I think being a Red Knight means you're a member of a larger community. You have your high school career, but you definitely aren't going through that by yourself. You're going along with other students, and you have a sense of community and pride… You just feel like you're meant to be here. You feel very welcome, people are friendly, [and] they're excited to be here. They want to be here even though they don't have to be. I think that's the best part of BSM," Mark said.
"
Mark has always been a good friend to me, but also to the grade. He's a loud talker and a deep listener. He cares about this school, his teachers, and classmates, and he has made an impact on almost all of our high school experiences."
— Tyler Matson
Although many people hope to leave a legacy at BSM, the one Mark desires is unique: "I guess I want to be remembered as someone who chose to do the right thing, even in hard times, but also just a relaxed and fun person who you could see in 20 years and just pick up a conversation with," Mark said.
At the end of the day, Mark Racchini is a wonderful guy. He's funny, genuinely happy, and brightens the days of so many people. He's a leader in every sense of the word, and while he will be sorely missed by BSM next year, the class of 2017 is lucky to count such an outstanding Red Knight as one of their number.