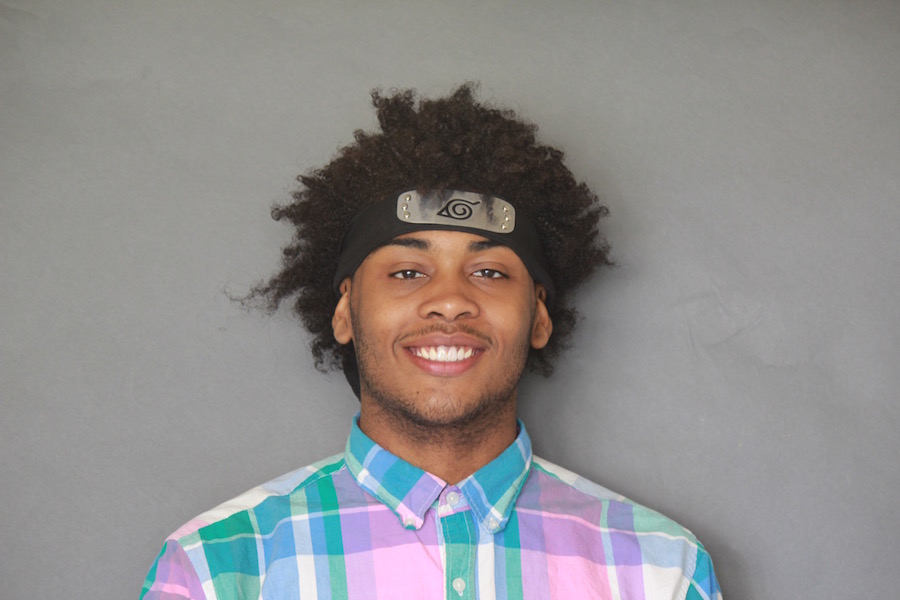 Malachi Johnson
Malachi Johnson is practically a beacon of happiness in the BSM halls. Whether you know him by his booming laugh or bright smile, you've seen the charisma that Malachi exudes. His self-confidence, ambition, and imagination are undeniable parts of his personality, even though Malachi thinks those aspects might come off as cocky to many. "Honestly, if I met somebody who was just like me I wouldn't like them, but the thing is, I might seem cocky, but I see it as self-confidence. I think that's something everybody should have. I know there's a lot of people who hate me for it, but I'm not going to apologize for being me," Malachi said.
The infectious self-confidence that Malachi radiates also shows in his high- reaching dreams. "I want to be comeback player of the year [and] defensive player of the year [on my college team]. I know those are high standards, but I really want to accomplish that. I want to have good grades next year; I want to prove everybody wrong," Malachi said.
Though Malachi recognizes that he dreams big, his determination to achieve his goals comes from a deep love for football. "Football is the only reason I work hard at anything. If I didn't have football, I don't know where I'd be right now," Malachi said.
Malachi has learned that his goals necessitate hard work, but the lesson didn't come without its consequences. "I've always wanted to play D1 football. By the end of the football season [of junior year] my grades were bad; I had a decent season, [but] I didn't make All Conference… I saw Ricky, one of my best friends, getting all these messages from coaches right away, and I saw all of that, and I was just like, 'Ok, no one's hitting me up, so I don't know what I'm going to do.' So then, two or three months later… coaches would hit me up and see my grades, and they'd be like 'Oh never mind.' Seeing that happen to me hurt a lot. The worst part is [that] it's my fault… Looking back on that, I should not have given up like that," Malachi said.
"
He's always energetic, and if you're having a bad day, he can make your day better. He's goofy all the time, and he is strong mentally and spiritually."
— Malachi Johnson
Now, Malachi has become a role model by using his experiences to encourage younger students he sees struggling to work for what they want. "I just want to spread [the message] that if you have a goal, keep going for it, don't take breaks or give up. All you have to do is do your work––you just can't be lazy like I was," Malachi said.
The central lesson to never let yourself do less than your best has been drilled into Malachi through experience and from his coaches who encourage him to improve in every aspect of life. "Coach Hanks never let me settle; he told me that my grades are good, but I shouldn't just settle. He always pushed me on the football eld and showed me a lot of love. At the time it would piss me off, but it has also made me a better player… He and Coach Creer have told me that my ACT is good, but I shouldn't just settle. They're always telling me just not to settle and always try to improve when you can," Malachi said.
Malachi's role models, Muhammad Ali and his mom, have been formative in how he carries himself. Ali has always been an example of the athletic prowess that Malachi strives for. "[Muhammad Ali has] always been one of my favorite athletes; I've always looked up to him… He used to make raps in his pre-boxing interviews and fry his opponent, talk about how he was going to beat them, and that's me. That's why I look up to him so much. I do what he does," Malachi said. His mom has been the person Malachi can always con de in, "a bro sometimes," and the definition of a hard worker. "My mom has always been there; I could tell her anything… I could tell her about girls and about school. She's a big provider in my life. I love my mom," Malachi said.
Among the many things that Malachi enjoys, like spending time outside or with friends, watching superhero anime television is an activity that Malachi is devoted to. "When I watch Naruto or Dragon Ball Z [at school] it's honestly so hard for me to stay calm and sit there and watch it because whenI'm at home, I'm energetic. When they power up, they be like 'Ahhh!' and I want to yell along with them. It gets me so amp," Malachi said.
The last secret Malachi had to divulge concerned his football teammates and his favorite dessert: "Sedona's Post Monday Practice Brownies: they're so good. You're supposed to get one, you know. I apologize to my team, but I used to take ve or six, hide them in my helmet, and go to the locker room and eat them when no one was looking," Malachi said