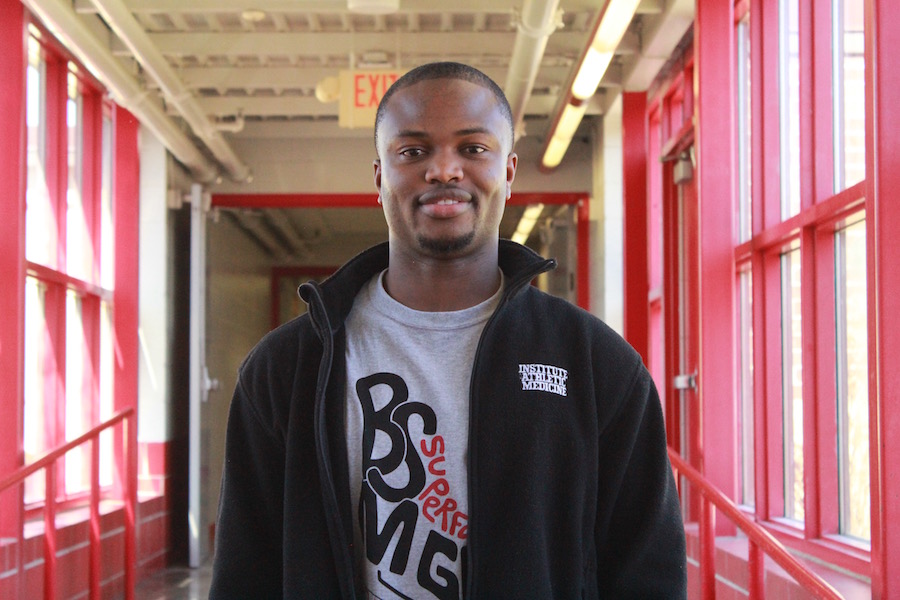 Unsung Hero: Percy Botchway
Though the Benilde St. Margaret's community may be small, it is known for its incredible athletics. With State Championship wins in both football and girls'  soccer earlier this year, there are many unrecognized contributions to BSM's athletic success. One of these contributors at BSM is Percy Botchway.
Botchway, a BSM athletic trainer, joined the BSM community in January of 2016. As a graduate of St. Cloud State University, with a Bachelor of Science degree in Athletic Training, Botchway found his passion and desire to be an athletic trainer after spending time in his high school training room as an athlete at Mounds View High School. "My athletic trainer was great when helping me get ready for returning back to sports, so I wanted a position where I could also help other athletes be able to play the sport that they love," Botchway said.
Arriving at BSM around 3:00pm, he is ready to greet any and all athletes with a smile. Many know that Botchway is the one to tend to any immediate injury or discomfort that comes when training or playing a sport, but he does much more behind the scenes that goes unrecognized. "I need to make sure I'm constantly communicating with the athletes, parents, and coaches regarding injuries that we have to encounter every day. I also need to make sure I'm documenting any new injuries that happen and stay up to date with any new information or skills needed to do my job," Botchway said.
Though somewhat new to the Red Knight community, in addition to helping student athletes with their discomfort and injuries, Botchway makes it a priority to get to know and learn the names of as many students as possible. Many students who either stay late after school or are waiting for their sport, spend their time in Botchway's office, which is located on the west side of the Haben Center. Any student athlete knows that, when going to get help from this one of a kind athletic trainer, they can expect to run into several other students enjoying the warm and welcoming company that he brings to the community.
Botchway considers his favorite part of the job to be spending time with and being a part of the Red Knight family. "I love the dedication of the athletes to get better every day, the coaches who are very helpful and very cooperative with me and get their athletes ready to play," Botchway said.
Though Botchway makes his job seem effortless, this is not the case. Along with aiding student athletes, there are a lot of challenges behind the scenes that he works extremely hard to deal with. "Sometimes we have athletes who may not want to play a sport, but they do sign up for it because their friends are, so they make up a lot of injuries, and dealing with that can be challenging at times. Also, parents and some coaches [can be] a little overzealous with their requirements for [an] athletes' return. Another challenge of the position is the unpredictable schedule that comes with high school sports," Botchway said.
Being the trainer for a school with a small student population has its benefits, though, and it's one of the aspects of Botchway's job which he loves the most. "Because it is a smaller school, it's also very integrated so it feels like you know everyone, making it very easy to communicate with parents of the athletes, if needed, and to communicate with the athletes themselves because I have seen most of them in another sport in another season. [It makes] my job a little easier, because I feel like I know the athletes a lot more," Botchway said.
Though just beginning his journey with the Red Knights, Botchway has already made an incredibly positive impact and will continue to for years to come.