Father and son look to savor their last season on baseball team together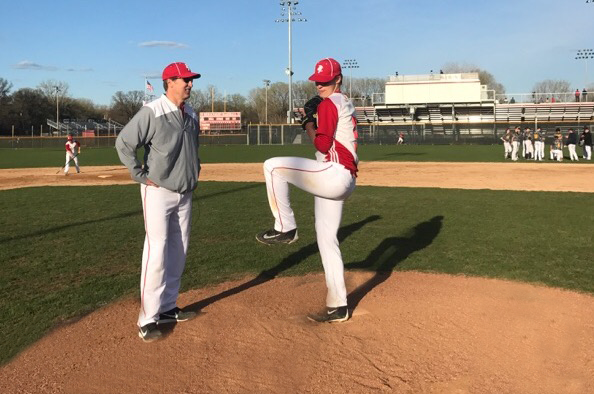 This BSM baseball season marks not only an opportunity but also sentiment for senior captain Derek Drees.  As Drees moves on to play collegiate baseball at Virginia Tech next year, he leaves behind many great relationships with his coaches–coaches that have molded him into the player that he is today. But out of all of the coaches that he has had throughout his baseball career, there is one that Derek will miss significantly more than the others: his father, Tom.  
Tom and Derek have always been inseparable on the baseball field. Dating all the way back to Derek's grade school years, Tom has coached his teams. Tom, a former pitcher for Creighton University and for the MLB's Chicago White Sox, has used his baseball experiences in being the BSM baseball team's pitching coach. Some of these experiences include throwing back-to-back no-hitters in the minor leagues, a feat that has only happened in Major League Baseball once. Tom has also been coaching Derek ever since he was a little kid. "It has been a great experience to share so many memories. Watching him mature from a boy to a young man has been a blast," Tom said.  Some of these great memories include the 4th Place State Tournament finish last year, as well as coaching Dylan, Derek's younger brother, to the Gopher State Championship.
For Derek, playing with his dad has been a great experience. He is very grateful that he has had the opportunity to play for him.  "Playing for him has been great and I enjoy having him as a coach because he knows more about baseball than any other coach I've had. This final year is going to be bittersweet because we're hoping for a great year, but also next year will be the first time [that] I won't have him there for help, whether it's a form thing or mental aspect of the game," Derek said.  
The mental coaching aspect of the game may be the guidance that Tom can give that Derek will miss the most. "My dad has been a great mentor to me. He's the 'go-to guy' when I'm in need of advice, and he has played a massive role in getting me [to] where I am today," Derek said.
The two understand that they do not have much time left in their baseball careers together, so they want to make the most of that time that they have left by finishing on top. They both hope to finish on top this coming spring. "Winning the State Tournament would be an experience [that] we both would never forget!  It's up to [Derek] to make it happen!! That would be a true storybook ending," Tom said. "[Winning the State Tournament has] been the thing [that] I have been dreaming of since I was a little kid, and to have him right alongside me would make it that much better," Derek said. An ending like that would really create a great storybook ending, one that would leave a lasting mark on BSM baseball history.