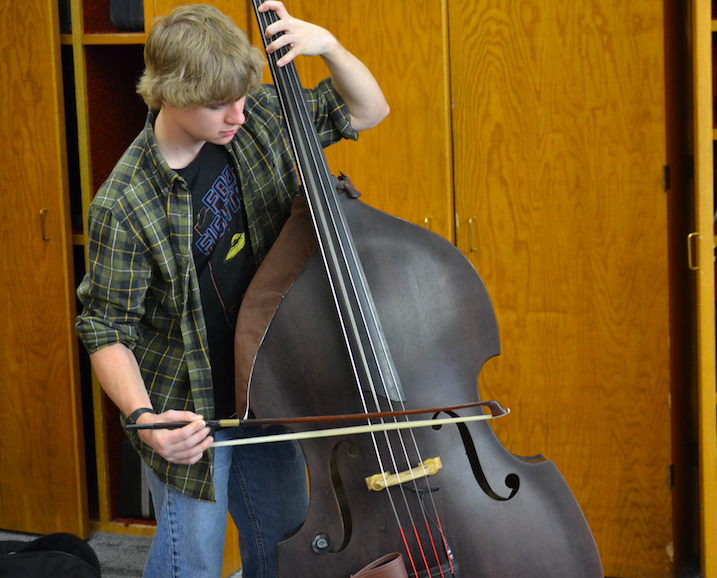 Spencer Becker plays both electric and upright bass
Junior Spencer Becker has been making the halls of BSM a little brighter with his upright bass, and can be seen anchoring the orchestra with the upright bass as well as playing electric bass in the band. "I've been playing electric bass since sixth grade and upright bass since freshman year. I've been messing around with the guitar since I was ten," Becker said.
He sources his original inspiration to learn guitar to the alternative band Green Day. "Green Day is the band that got me interested in music, that made me aware," Becker said. Since this moment of awakening, Becker has expanded his style repertoire. "I play rock and roll with some guys, and I play folk music," said Becker.
He cites multiple influences for inspiring him to continue with music. "For Jazz, I'm a big fan of Monty Budwig and Ray Brown.  [I would say] Lullaby of Birdland [is one of my favorite songs], it inspires me. And my bass teacher, Jeff, has had a big influence on me.  When I play, I don't try and think of a single influence, I try and shape myself to the piece I need to perform," Becker said.
Becker is hesitant to cite the best memory from a gig, rather gaining fulfillment with his playing through recognition from others of the effort he puts into his performance. "I was playing at a retirement home in Stillwater, and we opened with "Gentle on My Mind" by Glen Campbell, and that was the second gig in the day. I just played it really well, the guitarist [and I] were playing together real well. Later, the people I was playing with said it was the best I've ever played," Becker said.
While Becker hopes that he can continue playing music, he is realistic about the financial instability that musicians often face and the possibility of resenting music as a livelihood. "I don't want to make it my career, I've heard of people playing music they don't want to play, and they end up hating the music business," Becker said.
Becker has his sights set on smaller, more attainable goals. "I plan to play music for as long as I live. My best memories are playing music with other people. My bass teacher has a class he calls "Play like a Pro," and he wants me to be the next bass player for the group.  When I say I'm studying jazz, that's my [short-term] goal right now," Becker said.