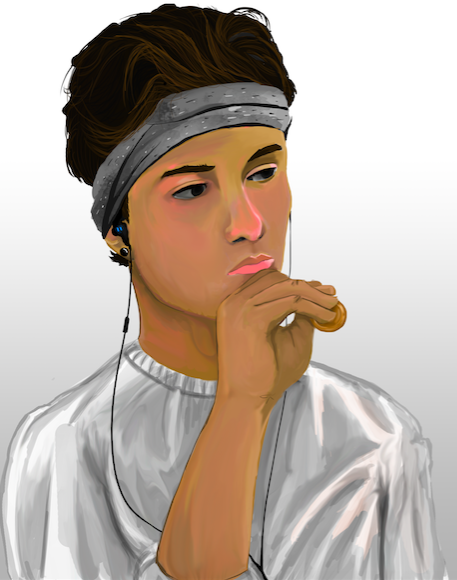 Noah Shields uses different mediums to express creativity
Noah Shields has a gift for art evidenced by his knack for Photoshop and After Effects. Shields is now a junior at BSM and has always had a strong love for art. "I would doodle all over my homework, totally ignoring the teacher, which didn't always help my grades. I kept consistently drawing using pencils, calligraphy pens, Copic Markers, you name it," Shields said.
As he grew older, he developed an even stronger passion for different types of art. "Art is always changing for me. There is so much variety in art, and I think that's one reason why I never get bored of it. There will always be something bigger and better," Shields said.
Photoshop and After Effects are two mediums Shields prefers to focus on. "I tend to do a lot of my work digitally. It was around 7th grade when I found out that I could use Photoshop to make digital art, and I was instantly intrigued," Shields said.
One of Shields' favorite art pieces is one he created of a character based off of a video game that he planned on creating. "It was the protagonist, Cerus, and it took me most of the day. I had created his sprites and animations in an 8-bit style, but wanted to truly see what he would look like in a realistic style," Shields said.
Shields likes this piece best among all of his creations because of the time spent on it, and because he wasn't self-conscious about what he was drawing; he let his artistic abilities go to work. "After I was done, I kind of just stared at it for a while. It was a very dynamic piece, and I feel like it showed off the best of what I had to offer at the time," Shields said.
As Shields found his true passion through art, he developed a love for the art of video games and manga. His love of art through video games and Magna has led him to consider attending a college for game design. "I never really chose to do art, it just kind of came naturally. I always had an itch to draw, and my parents always really encouraged it." Shields said.