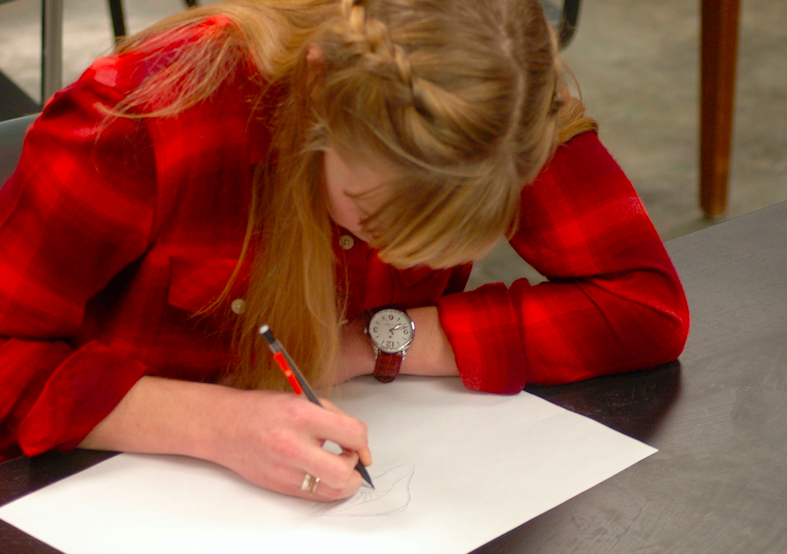 Abby Sohm relieves stress through sketching
The girl, the myth, the artist: Abby Sohm. This BSM sophomore has been drawn to sketching from the moment she was able to hold a pencil and get her hands on a sketchpad.
Some may say that Sohm's leap into the artistic world was destiny, others might argue that it was really a happy accident, but either way there is no denying that she is hooked. "It's sort of a stress relief and also sort of a funnel for my inspiration. It encourages me to be creative both in my art and in the rest of my life, too," Sohm said.
Sohm might be just a high school student by day, but by night she conquers the art world with her realistic takes on what she sees in her everyday life. Her sophomore alter-ego has, despite all odds, actually helped fuel her creativity and discover what she is truly passionate about in regards to her sketches. "I like drawing people. I guess I'm just really inspired by the faces that I see in my daily life because there are a million combinations of facial features and I think it's really interesting," Sohm said.
Morgan Freeman to Artemis, there is no denying that Sohm is willing to expand the boundaries of her artistic prowess. "I'm a really big fan of Morgan Freeman. I think he's pretty cool and so, I decided to draw a picture of him because he has a very distinct face, like the nose and the freckles," Sohm said.
Her ability to recreate pictures and what she sees day to day isn't her only superpower. Sohm's imagination also takes center stage in her drawing of the Greek goddess, Artemis. "This one, unlike the other ones, isn't based on a picture or something that I saw, I just sort of made it up. I also don't usually do stuff in color, but I did in this picture. It represents Artemis from Greek mythology. I thought it was pretty cool how she used her bow and arrows and how she was running around the forest with some woodland animals," Sohm said.