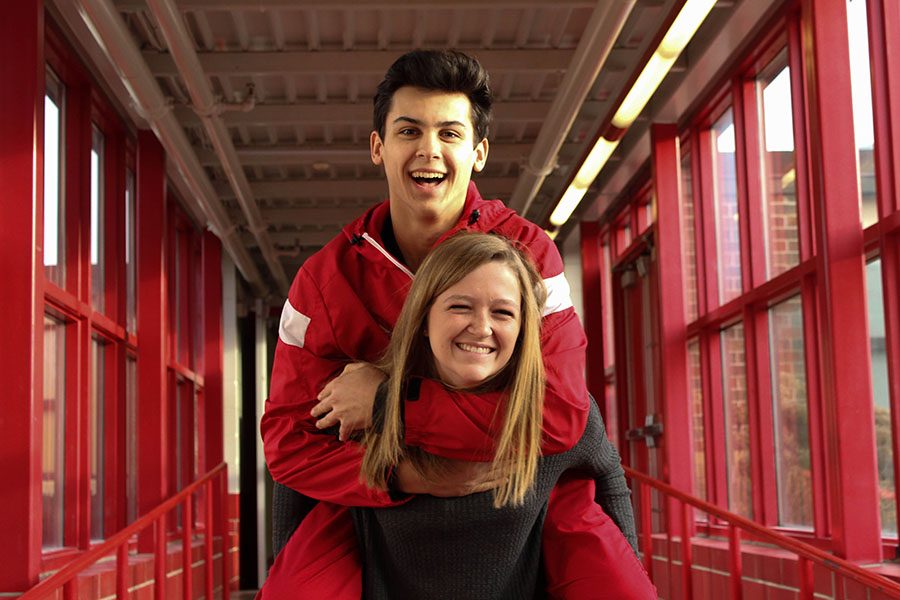 Mary Hoyt and Carson Jacobsen
Knight Errant: How long have the two of you been dating?
Carson Jacobsen: 10 months? 11 months?
Mary Hoyt: 10.
KE: That's impressive! How did you meet?
CJ: We started talking a lot the beginning of sophomore year, and we started Snapchatting a lot.
KE: So you would say that Snapchat was your vehicle to love?
MH: Yeah, Snapchat.
KE: What is your favorite thing about your significant other?
CJ: I think she's funny, and she likes to have fun.
MH: When there's a joke, he adds on to it. It just keeps going.
KE: What celebrity couple are you most like?
MH: Who is Blake Lively married to? Oh, Blake Lively and Ryan Reynolds.
CJ: I don't even know who Blake Lively is. Is it a boy or a girl?
KE: What animal describes your relationship?
MH:  A weird animal, like a walrus.
KE: What is the main thing you fight over?
CJ: Who drives.
MH: No. Well, yeah. It's more of an argument, not a fight, though.
KE: What is your restaurant of choice for a date?
MH and CJ: (in unison) Noodles.
KE: What was your worst date?
CJ: One time we went out for sushi right after we got in a fight and we didn't talk the whole time. I just sat there watching basketball and it was really awkward.
MH: Yeah, and it was like 50 bucks too.
KE: Who paid for it?
MH: I did.
CJ: But I pay for ever other [meal]. She was like, "I want to pay for one."
KE: What do your parents think of your significant other?
MH: My parents like him.
CJ: My parents like her.
KE: Who settled in this relationship?
CJ: I don't think either of us really settled. I haven't thought that I could do any better than her.
KE: Do you think that your significant other is the "one"?
MH: I don't know, I have no clue.