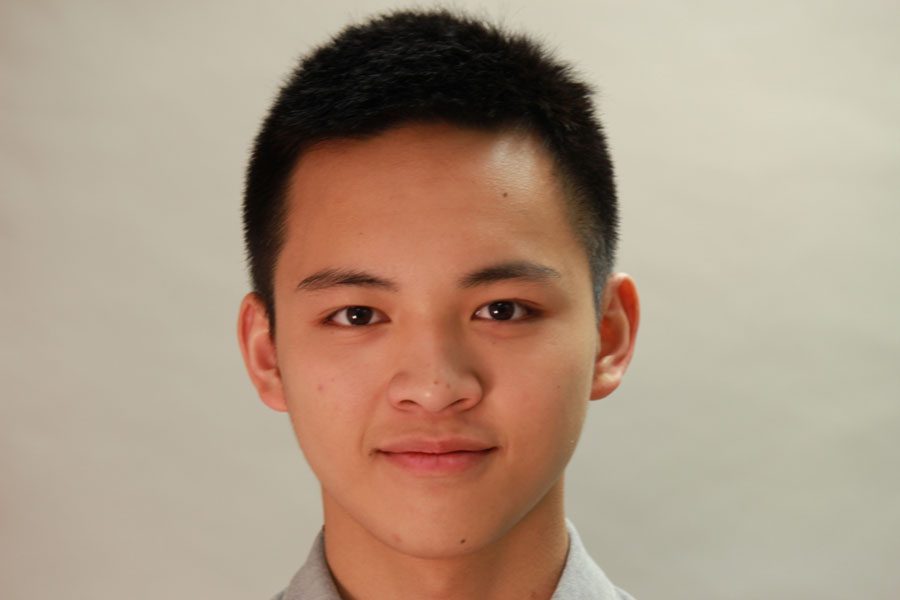 Jimmy Peng
"Here he is in a new country, a new culture, a new school, but he didn't just sit here or use that as an excuse— he got engaged, tried to make an impact here, and left his mark." -Mrs. Rosalie Goldberg
Jimmy Peng sits down for his interview early Monday morning handling a white brand-less coffee cup and a smile on his face.
Jimmy is patient and friendly while the interview is set up, listening attentively to direction. Though his school newspaper is quite literally labeling him tremendous, Jimmy insists on remaining humble throughout his entire interview. "I'm kind of quiet, but I'm nice and I work hard," Jimmy said.
Mrs. Rosalie Goldberg, Jimmy's past Pre-Calculus teacher, had a different first impression of Jimmy. "I got to meet him one-on-one, instead of the classroom setting where you meet everyone all at once. I was really impressed. He seemed very determined, he was outgoing. He was going to do Pre-Calc and do it well. If nothing else, I knew that he was going to work really hard,"Goldberg said.
During any moment of downtime, Jimmy reads a small hardcover novel dedicatedly in his chair. "I like to learn a lot; I read a different article every day to gather vocab and help improve my English," Jimmy said. "I wish I could speak better English, and I wish I could learn a few more languages, like French and Spanish.
After I learn English well, I will learn those too." Jimmy, a foreign exchange student from China, says he reads as much as he can for the love of reading itself. "Right now I'm reading Ernest Hemingway, but I normally read New York Times articles and I subscribe to the Wall Street Journal. I read anything that I can get in touch with," Jimmy said. Jimmy's other passions lie in exercise, especially in playing Tennis. "I like exercising; I try to push myself to run every day," Jimmy said.
Jimmy says that he derives his inspiration to work hard in all aspects of his life from his friends back in China, and his father. "Many friends of mine who are in China right now, they didn't have the opportunity to study abroad. But, they still work really hard to find a way to get to a better education, so they are big inspirations for me," Jimmy said. "But my biggest influence would be my dad. He and I have changed a lot over the past five years. When I was in 8th grade, I had a very bad GPA. I was kind of a bad kid, I just played around, and my parents gave me a second opportunity to study abroad, so I reinvented myself."
Mrs. Goldberg reaffirms Jimmy's incredible work ethic: "He wants to understand every little detail that he learns. It's funny—I used to do the same thing to my teachers. I had to understand everything, and I love to see that in him now. Jimmy sets really high goals for himself, and he really wants to succeed. I saw it even during his first semester in the United States. He was still getting the hang of a language, getting a feel for what it's like in an American school, but he just seemed like he wanted to do a lot for the community, that he was really excited to be here and really enjoyed what he was doing," Goldberg said.
Jimmy's biggest challenge since coming to BSM has been the drastic cultural shift from China to America. "Embarrassing moments happen to me all the time, because I can't fully understand the [American] culture, or the language completely. So, sometimes, I have the wrong reaction in some contexts," Jimmy said.
After his years at BSM, Jimmy has decided to further his education on the west coast at the University of Washington in Seattle, but Jimmy willingly admits that he will miss many aspects of BSM's unique culture. "[I will miss] the people and the friendly atmosphere, basically everything. Taher cookies especially," Jimmy said.
Mrs. Goldberg especially looks back on her time with Jimmy very fondly and knows that she will miss seeing him at BSM next year: "He had a very positive impact on people—each student is so unique, and he was very special. "The meaning of life is to make your life and the lives of others more meaningful," Jimmy said.