Rape and sexual assault: ignorance is dangerous
While the discussions of rape, sexual assault, and consent are often uncomfortable, it is absolutely necessary for BSM to give these issues voice and attention.
For every print edition of the Knight Errant, editors sit down and discuss possible topics for the staff editorial. This month, when one editor brought up the subject of rape, sexual assault, and consent, the room filled with conversation. A conversation, we slowly realized, that we as junior and seniors had never had the chance to discuss openly and honestly.
We attempted to recall times that BSM had addressed these issues. In March, BSM invited a speaker to talk about the effects of sexual assault to juniors. Each freshman health class spends up to three days discussing rape and sexual assault. At the end of the year, seniors attend a talk about how to "be safe" in college. It was difficult for a room full of juniors and seniors to think of times we had learned explicitly about sexual assault and consent, and that greatly concerns us.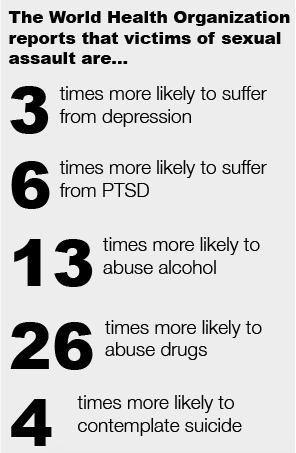 According to the Rape, Abuse, and Incest National Network, girls aged 16 to 19 are four times more likely than the general population to be victims of rape. The Bureau of Justice Statistics reports that women aged 18 to 24 who are in college are three times more likely than the general population of women to be victims of sexual violence. They also report that men in college are 78% more likely than non-students to be raped or sexually assaulted.
BSM prides itself on preparing its students for the real world, but fails to recognize that teaching about sexual assault, rape, and consent are integral, if uncomfortable, topics that each BSM student must learn before they can safely navigate not only college, but also high school.
As high school students, we need comprehensive education on these issues. More importantly, BSM must realize that they cannot simply teach girls how to avoid being assaulted or raped; the curriculum must go beyond that.
The women on the editorial staff of the Knight Errant would like the BSM administration to know that we have been told how to avoid being raped. When we implore you for more sexual assault education, we are not asking you to tell us how to carry our keys between our knuckles, how to watch someone pour us a drink out of a newly opened bottle, or how to avoid going upstairs at a frat house. The world has plenty of adults informing young girls that they live in a constant state of peril. This issue does not just apply to women. We need you to teach boys that sex without consent is rape.
We are aware that not all rape victims are female and not all rapists are men. However, the Sexual Assault Prevention and Awareness Center at the University of Michigan reports that nearly 99% of sex offenders in single-victim incidents were male.
"
By ignoring these issues, BSM is perpetuating the idea that rape and sexual assault are taboo topics."
Additionally, a survey conducted by researchers at the University of North Dakota found that one in three of the college men surveyed said that they would act on "intentions to force a woman to sexual intercourse," if they could get away with it, while only 13.6% said they would act on "intentions to rape a woman." Language is everything. This survey asserts that one in three college men don't understand what rape really is. If the correct language isn't taught in high school, students will be sent to college with the ignorance that can lead to becoming perpetrators of rape. To assume that BSM boys are an exception is irresponsible and downright dangerous.
We know that, as a Catholic school, BSM teachers are required to teach abstinence to students. However, this regulation cannot and must not be used as a reason to avoid talking about consent. Teachers tell students to not have sex until marriage, but there is one important distinction: rape is not sex.
As a result of this restriction, the conversations centered around sexual assault can often be difficult. However, by ignoring these issues, BSM is perpetuating the idea that rape and sexual assault are taboo topics. We need to be able to engage in healthy, open conversations for the safety and education of all students. By treating this topic as something that can't be talked about, BSM inadvertently creates a group of ignorant students.
We urge BSM to improve its sexual assault education. Make these lessons more than a speaker here or there, or a day in health class. This information needs to be incorporated into the BSM curriculum. Teachers in every department should receive training on how to educate students on sexual assault. Students need clear definitions of consent and rape, without discussion or debate.
We want to solve problems that matter. When The New York Times reports that one in five women have been sexually assaulted, this problem matters to us. Without the help of BSM, we cannot make real change at our school, we cannot send informed women and men into this world, and we cannot solve this problem.