Expensive ice cream shop Milkjam Creamery opens in Minneapolis
"Milkjam Creamery, a new gourmet ice cream shop, recently opened in the Lyn-Lake neighborhood in Uptown, Minneapolis. Don't let the small portions and high prices intimidate you, because the myriad of rotating off-the-wall flavors can satisfy even the most persnickety of ice-cream connoisseurs.
Located on Lyndale Avenue in the bustling Lyn-Lake neighborhood just east of Uptown, Milkjam Creamery is a new local venue serving up culinary art masquerading as ice cream. Having just recently opened, Milkjam was initially conceived as a convenient way to pay for extra freezer space needed by the World Street Kitchen. With culinary mastermind Ben Spangler behind the counter, Milkjam offers a wide array of unique flavors that rotate regularly.
With a creative approach to ice cream, it comes as no surprise that flavors include Extra-Virgin Vanilla, Cereal Killer, and Indian Elvis. Each creation has a blend of foods and flavors to create a unique taste. I was blown away by the flavor Cereal Killer, which comprised of a slightly orange ice cream base that was stuffed full with candied fruity-pebbles.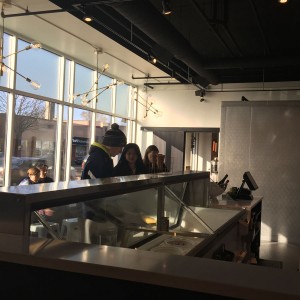 The ice cream was smooth, but the fruity pebbles were crunchy, which provided an enjoyable variety in texture. Another tempting menu option was the Jam Bun, which allows the customer to pick a flavor of ice cream to be sandwiched inside a Glam Doll donut.
I was too afraid to try more daring flavors on the menu like the Indian Elvis, which combines curry, peanut butter, and banana. I've had peanut butter and banana on toast, but adding curry to that mix seemed a little too daunting for my first visit. For less adventurous Milkjam customers, there are plenty of traditional flavors with slight modifications, such as the Toasted Coconut. Although it may sound boring, this flavor packed a punch. In fact, it only lacked a tropical beach and an ocean breeze to set the mood.
Milkjam also offers many vegan and gluten-free flavors to accommodate a more diverse demographic. Surprisingly, the vegan flavors are more than just convincing substitutes to real ice cream; in fact, some of the best flavors available are made without dairy. A word of caution: some of the flavors do contain alcohol, so make sure to check the board for the flavors including champagne, mezcal, or other exotic alcohols.
However, the unique and mouthwatering ice cream does come at quite a price. Buyers will have to pay $7.50 for two scoops of ice cream, or $10.50 for a pint. The portions are reasonable, and although not very large, they pack as much as possible into every scoop. This ice cream definitely warrants a higher price than a local Dairy Queen, but $4.25 for a scoop is really pushing it.
All in all, Milkjam is a superb way to treat any sweet tooth, and support a new local business at the same time. With new flavors rotating almost every day, Milkjam isn't just a one-time stop. This melt-in-your-mouth startup is sure to turn anyone into an ice cream fanatic.