World Language and Culture Week at BSM a success
Every year, BSM celebrates World Culture and Language Week by embracing the various cultures that are part of the diverse BSM community. February 29 marked the beginning of this action-packed week including multi-lingual prayers on the announcements, culturally diverse lunches, and interactive opportunities for all BSM students. 
On Thursday, all students were invited to a panel of international students. Each period of the day introduced a new international student speaker who shared the experiences of growing up in their hometowns. "We had our international students show some pictures of their hometowns and give a brief presentation about their hometowns and then students were be able to ask questions and get to know them better," World Language Department Chair Ms. Megan Hansen said.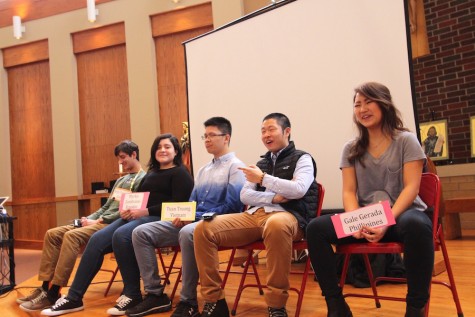 Samuel Luo was the main student speaker and presented every period of the day. There were also twelve other student speakers, from countries such as Canada, Taiwan, South Korea, Vietnam, the Philippines, and China.
FRENCH
On Monday, Vistas in Education (VIE) visited French classes. VIE is a travel program that works with BSM and various schools in France. On Monday, VIE presented on the geographical differences between regions in France and how this impacts the culture as a whole. "Understanding and appreciating culture goes hand-in-hand with language learning.  Those learning another language gain the ability to step inside the mind and context of that other culture," French teacher Ms. Amy Jo Hyde said.
Tuesday marked the much anticipated Crêpe Party for French students. They were able to mingle and listen to French music as they devoured Nutella-covered crêpes. "I think that by eating food from France is a way to explore French culture without having to sit down and listen to your teacher simply talk about it," sophomore French student William Krane said.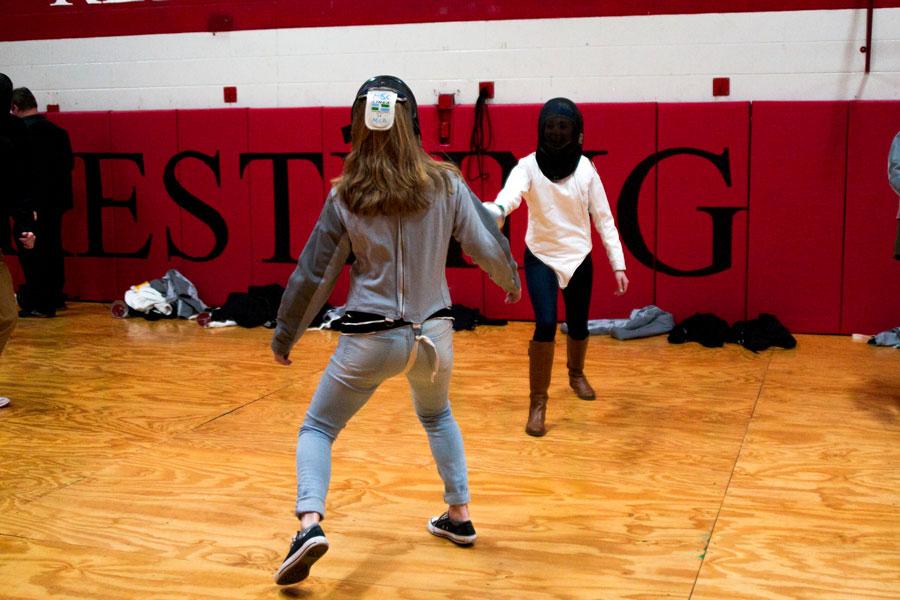 To finish out the week, French students took a fencing class. Students spent their class learning more about the French culture by fencing their fellow classmates under the instructor of a teacher who taught them various techniques and skills. "We believe that understanding another language and culture is important because it can help bridge the gap between cultures and increase understanding, which ultimately leads to a more peaceful world," Hyde said.
SPANISH
For Spanish, Monday was focused around the different dances of each of the languages. In many cultures, dance is one of the most important elements of their traditions. BSM Junior Anna LaTourelle taught Korean Dances to students during first period. Next, Hansen taught Zumba during second period. Flamenco dancing was performed in the theater during fourth and fifth periods and Danza Azteca was performed during sixth and seventh periods. To end the day, Junior Kasey Desmond shared her passion for Irish dancing with students during eighth hour.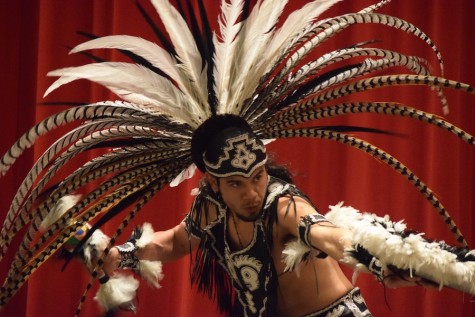 Junior Alma Godinez danced with the Danza Azteca troupe, and her performance was a highly-anticipated event. "We have been celebrating many different cultures through World Language and Culture Week for around a decade now and to now be able to incorporate what is essentially a dance party is really amazing," Spanish teacher Mrs. Mary Murray said.
On Tuesday, students learned about artists from Hispanic countries, including works by Pablo Picasso or Joan Miró. After school, there was a Spanish spelling bee. Winners were junior Billy Madden, sophomore Hans Helseth, and senior Sarah Mason.
On Wednesday, students made and brought in dishes from all kinds of Spanish cuisines  As they ate, they enjoyed learning about some of their teacher's backgrounds. Science teacher Ms. Abby Baker taught students about her Filipino and Hawaiian heritage during first, second, and fifth periods. Math teacher Mr. Dan Bowler informed students about his passion for Nepalese culture, and religion teacher Mr. Jeremy Cramer demonstrated his passion for Native American culture for students during fourth period. 
"When students learn about other cultures they can really can begin to examine their own culture and their way of doing things. And it's a week to have fun, we want the students to have," Hansen said.
LATIN
Latin classes participated in the events that all of the languages participated in, as well. Additionally, Latin students participated in a spelling bee as well. Winners were eighth-grader Henry Meshbesher, freshman Nathan Parece, and senior Erin Falk.
CHINESE
Chinese students also had the ability to participate in the spelling bee. The contestants for the spelling bee featured Drew Check, Carolyn Mason, Jackson Williams, Carston Swenson and Samuel Luo. Sophomore Jack Williams was the winner.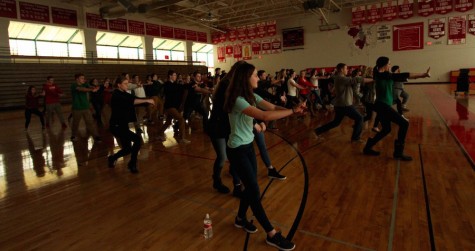 For students in both Chinese and Spanish, Friday was all about learning the art of Kung Fu. Ms. Li Sun, the senior high Chinese teacher, was given a grant of $1,000 from the Confucius Institute and decided to hire a Kung Fu martial artist for the whole day. "I think it's an art that not many people know about because you only really see it in the movies. I'm excited for the students to see someone who does it for a living versus an actor in a movie," Hansen said.