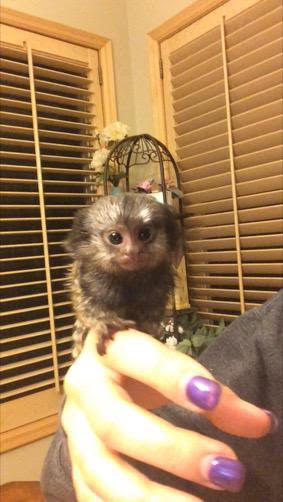 Photo courtesy of Savanah Urbano
Finger monkey–Savanah
Senior, Savanah Urbano, was the proud owner of a finger monkey named George after Curious George. George was as tall as a pointer finger and could easily fit in Urbano's hand.
Urbano had her beloved pet for one year; her brother bought him in Florida from a man who sold monkeys and lizards at his house.
"[My brother] went to look at lizards, and the owner had monkeys too. The man told him he was selling them, so my brother bought one," Urbano said.
Urbano most enjoyed watching him George play in the cage that she made him, hanging upside down and swinging on the rope.
Having a finger monkey can be a lot of work because of how small this type of animal is. George was fed baby formula with a syringe by Urbano a couple times every day.
Even though taking care of George was difficult, Urbano loved having him as a pet, and she enjoyed playing with him. "I would hold him, and he would crawl on my arms. He would also sleep in a blanket in my lap," Urbano said.
The Knight Errant intends for this area to be used to foster healthy, thought-provoking discussion. Comments are expected to adhere to our standards and to be respectful and constructive. As such, we do not permit the use of profanity, foul language, personal attacks, or the use of language that might be interpreted as libelous. Comments are reviewed and must be approved by a moderator to ensure that they meet these standards. The Knight Errant does not allow anonymous comments, and the Knight Errant requires first and last names and a valid email address in order for comments to be published. The email address will not be displayed but will be used to confirm your comments.