My week as Khloé Kardashian: an official review of "Strong Looks Better Naked"
I wrapped myself in a warm blanket, sipped on a can of sparkling water, and read a book that would change my life forever: "Strong Looks Better Naked," by Khloé Kardashian. Khloé's newly released self-help book follows her journey of shedding not only pounds, but also her label as "the fat Kardashian." Okay, so it didn't change my life forever, but I decided to let it change my life for one week. To review this book would be reviewing Khloé's lifestyle, so simply reading it wasn't going to be enough. For one week I decided to eat, exercise, and think like Khloé. In keeping with true Kardashian fashion, I decided to document my week with a series of duck face selfies.
Rules for the Week
Eating like Khloé

She loves food with texture, and has a weakness for pita chips and hummus. She even used to eat potato chips just to hear the crunch, but that was the old Khloé. New and improved Khloé stays away from dairy and doesn't eat carbs after four, and she's really into water that's infused with chopped up fruit. Also, it's very important to make sure all fruits and veggies are organic.

Exercising like Khloé:

She can't sit still while watching TV, so that's when she likes to get her cardio in. She is self-conscious about her arms, so she focuses on those, as well as her booty, which she wants to keep looking fierce. She also recently increased working out from three to five days a week.

Thinking like Khloé:

Be positive and patient! Rome wasn't built in a day, so neither can the new you.
Monday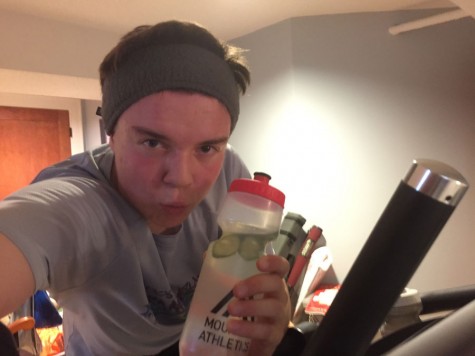 Gunnar Lundberg
I started the day off with some eggs, but I usually do that anyway so it wasn't much of a change. The eggs kept me full until lunch, which comprised of a granola bar, snow peas, and a sandwich with salami and mustard––the lack of cheese was very evident. Nothing was too hard to handle until I got home at 3:30. I was hungry, but decided to hop on the exercise bike to get some cardio in, just like Khloé would. Sadly, I got off the bike after 4:00, which meant no more carbs for me, and I was ravenous. I inhaled my second helping of snow peas for the day which barely held me off until dinner: pork chops. Day one as Khloé came to a close, and I was ready for more.
Tuesday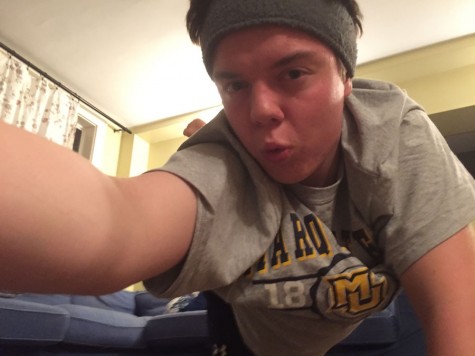 Gunnar Lundberg
I have been peeing every forty minutes. Even though I usually try to stay hydrated, I figured that since Khloe drinks a lot of water, that I must take my chopped-up-fruit-water consumption to an entirely new level. started the day with eggs again, and then I had bratwurst, snow peas, and granola for lunch. I am feeling pretty good, but I'm started to get bored of the food. I had a chef salad for dinner and had to pick out every piece of cheese individually, which was a huge pain. I had speedskating practice, which is already a major lower body workout, but I made sure to spend some extra time focusing on sculpting my booty. I'm a little tired of the routine already, and I've been lacking energy, but I'm feeling very healthy.
Wednesday
Gunnar Lundberg
 I am so tired. I don't know if it's the lack of dairy, or the no-carbs-after-four, but I fell asleep in almost every class today. I woke up late and was too lazy to make eggs, so I had sausage for breakfast. Lunch was a ham sandwich, cucumber, and pumpkin seeds; it kept me fairly full but was pretty bland. Dinner was a pot roast and assorted crock-pot vegetables (organic of course). I tried to tone my arms with some with some bicep curls and pushups. The saving grace of the day was a lactose and relatively carb free ice cream I found at the grocery store. After all, a pint a day keeps the sorrows away. I'm feeling pretty good, I'd describe how I feel as the opposite of bloated. Wait, is that a thing?  
Thursday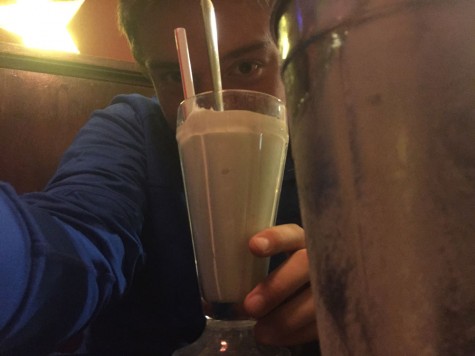 Gunnar Lundberg
I'm hiding because I cheated. The day was going great, no dairy, mainly healthy choices–all until dinner. I was hanging out with friends and they just needed to go to the Malt Shop. I stood my ground and chose the Butternut Squash soup over a burger, but couldn't resist the Chocolate Chunk Pecan Cookie Dough Malt. But in all honesty, Khloé said she treats herself sometimes, so it's justified, right?
Friday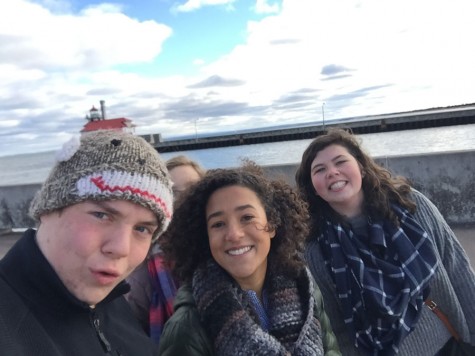 Gunnar Lundberg
Today was easily my worst day. I took a day trip to Duluth with some friends and couldn't really monitor what I ate. I started the day with an Eggnog Latte from Starbucks, then had some Haribo gummies, then pizza for lunch and polished it all off with McDonalds for dinner. I did however notice that I didn't eat as much to feel full, and didn't crave as many sweet treats. Also, don't hate on the sock monkey hat, my aunt knit it for me ages ago.
Saturday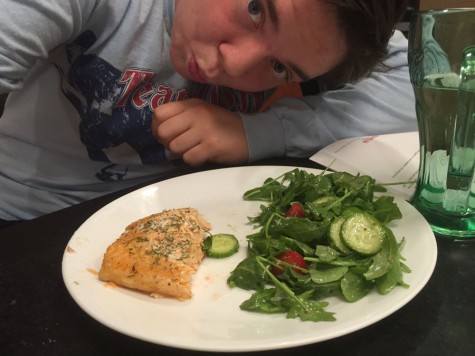 Gunnar Lundberg
Back home, I recommitted myself to Khloé's rules. I had speedskating races this morning, and to be honest it wasn't my best showing. I felt tired and didn't have a lot of energy, but that was probably more related to the fact I stayed up until midnight the evening before, and not the fault of Khloé's lifestyle. I had a nice dinner that comprised of salmon and salad, which made me feel really healthy, and I'm a fan of fish so I loved it.
Sunday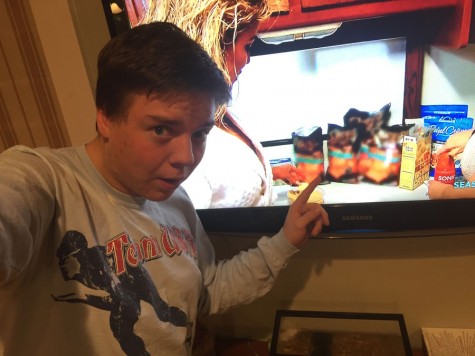 Gunnar Lundberg
Everything's a lie. Feeling the need to finish the week strong, I started the morning with eggs, enjoyed some cardio outside, and had some chicken breast and veggies for lunch. I then tuned in for the season premiere of Keeping Up With the Kardashians, and what I saw mortified me. Khloé, eating pita chips and hummus, all while her book claims she gave up her nasty habits months ago. To make it even better, this came literally right after Khloé finished her first photo shoot with her new body. Granted, she did say we're all allowed to indulge, but all those chips looks like a lot of indulging. Also, don't judge me because I'm wearing the same shirt as yesterday, it's the weekend.
Final Thoughts
For what it's worth, I feel really clean and healthy from this week. I'll reintroduce cheese into my diet (because it's divine), but I'll definitely try to keep some of her suggestions in the long run. All in all, much like Khloé's book, her lifestyle got boring after the first twenty minutes. It's my opinion that Khloé (and all the Kardashians) should stick to what they're good at–– reality TV and pissing people off.