Caribou versus Starbucks: pumpkin beverage showdown
Fall has officially begun, and that can only mean one thing: pumpkin spice beverages are back in season, making coffee shops like Caribou and Starbucks even more popular (if that's even possible). With all these drinks available for such a short window of time (some Caribou coffee locations end sales of such beverages after Halloween), it can be hard to know which ones are worth trying and which ones are just mediocre. To make things easier, I set out to try each of these pumpkin-themed creations to find out which one is the most fall-tastic.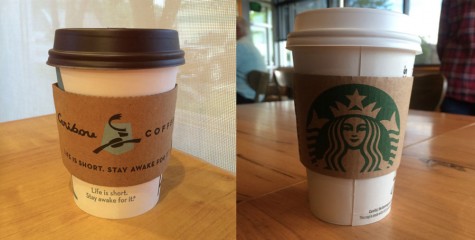 To begin, I tried the drink that started it all: the Starbucks Pumpkin Spice Latte. After trying it, I would agree that it's slightly overrated; however, it was still delicious. It didn't really taste like a latte, but it had a sweet pumpkin flavor with a hint of spice, so I'd recommend giving it a try. Next on my list was Starbucks' coffee-free version of the Pumpkin Spice Latte, the Pumpkin Spice Crème. Now, this might seem like a great alternative for those who want to skip the caffeine and espresso, but do not be fooled. Basically, it's warm milk with flavored syrups mixed in, although it tastes more like perfume if you ask me.
Next, I decided to try Caribou's version of the Pumpkin Spice Latte, the Hot Pumpkin Latte. I liked it better than the Pumpkin Spice Latte at Starbucks, mainly because the taste of pumpkin is there but not overpowering, and it has a hint of chai, too. I definitely recommend giving this a try if you want to get on the pumpkin spice bandwagon without going overboard.
However, if coffee isn't really your thing, then Caribou has the Pumpkin Chai Tea Latte. It's a very comforting, sweet drink with the spicy taste of chai, and also has a warm milky feel making it one of my favorites. This is the perfect drink for those who aren't coffee fans but still want to take part in the fall fad.
"
I definitely don't think [fall beverages] are overrated. I just think you have to try them to know how great they are."
— freshman Gabby Huson
The last drink on my list was the Pumpkin White Chocolate Mocha at Caribou. The white chocolate mixed with the pumpkin flavoring makes for a sweet and soothing drink. If your drink of choice is a mocha, I'd recommend switching things up for autumn and giving the Pumpkin White Chocolate Mocha a try.
Overall, I would give the the pumpkin prize to Caribou. Although Starbucks is strong competition with their famous pumpkin spice latte, they can't beat Caribou's fabulous fall drinks.