Donut You Want Me, Baby?
Glam Doll Donuts' warped dimensions and pink and white color scheme bring something original to the donut scene.
March 3, 2015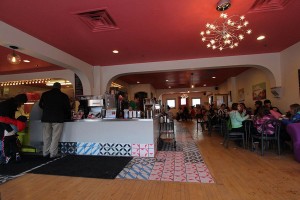 Just past 26th Street on Nicollet lies a hidden gem in the donut world: Glam Doll Donuts is a cute, warm, and fresh shop of sweets in the heart of Minneapolis. Upon entering the doll house world, donuters get blasted with the scents of fresh-baking donuts and toppings that range from caramelized bacon to cayenne pecans. The shop itself is filled with bright colors and happy workers––both of which provide a happy ambience required in the quest to find the perfect donut.
The interesting concoctions of fresh-made donuts are what make this shop great. Glam Doll makes
their donuts daily, which means customers will always get something fresh. Some of their donuts provide interesting new flavors. The Scream Queen, for example, is a classic chocolate cake donut with chocolate icing and topped with bacon. The donut itself has a perfect consistency––not too thick or thin.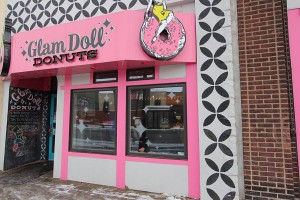 They also have lusciously filled donuts. Their Femme Fatale, a fresh raspberry curd topped with vanilla icing donut, is a delicious treat for those who love fruity donuts.
For those craving something more savory the Varga Girl is filled with almond cream and topped with chocolate icing and shaved almonds.
Some people might assume that a place with so many fancy donuts might butcher the classic flavors––these people are wrong. Their Sugar Cane is a classic glazed donut that is perfectly sweet. It is airy and wonderfully fluffy––all the characteristics one is looking for in an old school glazed donut.
Overall, Glam Doll Donuts has a wonderful ambience as well as tasty food. I highly recommend going and getting my personal favorite, the eternally delicious Scream Queen.