Girls soccer looks to capture third consecutive state title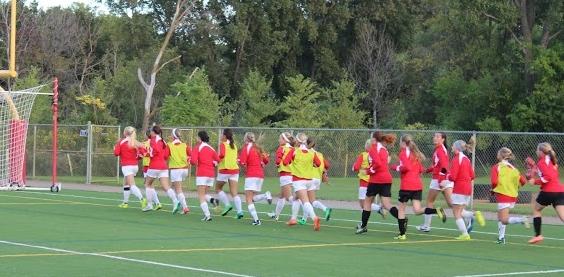 The BSM girls' soccer team had a great start to the season defeating the Class AA number one ranked Minnetonka Skippers 3-1, with goals from senior Mimi Burns, junior Aleksa Tataryn, and freshman Maddie Stoks. The back four defenders, seniors Anna Barger and Allie Coughlin along with juniors Taylor Gelling and Emily Schmitz, held their own throughout the game except for the first goal in the first half. "We played really well together, we knew it would be a tough game, yet we still came out to play and hope to have a great season ahead of us," senior Mimi Burns said.
The captains, seniors Anna Barger, Allie Coughlin and Emma Vanderheide, have all been on the team since they were freshmen and have a wealth of experience. This experience will help the younger players on the team adapt to the speed and physicality of high school soccer. The team also has three other returning seniors––Mimi Burns, Keara Klacko and Jordan Maddaus. These girls all have the skill and ability to be very successful during the season. "The seniors are all really supportive and they all have so much experience. They are always positive and never have any negative comments during the games," Gelling said.
The girls are hoping to make it back to the state championship this year. Although the team has won the last two Class A state championships, the pressure to do well this year is building. They will most likely need to face Orono in sections, who is the only team they have lost to this year. "After winning two state tournaments in a row the bar is set high for this year, we have a strong team and we have to stay motivated to reach that goal," Vanderheide said.
With the new conference the Red Knights have a far more difficult schedule than in years past. The girls have won their conference for the past three years, but this year they are faced with big Class AA teams such as Chanhassen, Bloomington Jefferson and St. Louis Park. "They haven't played a lot of the teams ever before so they will not know how they play, which can pose as a threat. We are gonna face a lot of good teams, especially Orono, and we can't underestimate any of them," Coughlin said.