Three senior basketball players reflect after a decade of playing together
Gone are the days of flailing arms, uncoordinated running and countless traveling violations, replaced by the skillful, smooth, meticulous play that these guys are known for. Senior captains Sam Lynch and Colin Polarek along with senior Jack Hathaway have established themselves as veteran basketball players on an already quite experienced team.
Watching them play today, it is obvious that these guys have been playing with each other for a while. Before they memorized their time tables or learned to write in cursive, the three had already assimilated themselves to the game of basketball. "We started playing together in a house league in second grade which was actually coached by Colin's dad, Mr. Polarek. It was made up of a bunch of Holy Name kids," Lynch said.
With big losses and wins in the past still in the memory of these three players, it's evident that they have a tenacious competitive nature. "I remember us repeatedly losing to the Minneapolis Hustlers. They beat us in the third grade championship by two…But, winning the fifth grade championship with Hathaway scoring the game winning points was awesome," Lynch said.
Reminiscing on grade school basketball is just proof of the relationship the seniors have built. Having played together for almost a decade, their competitiveness hasn't left them as they still battle out on the court today. Lynch and Polarek have proven themselves as the most prominent scorers for the Red Knights this season with Lynch leading the team at 11.0 points per game and with Polarek not far behind at 9.3 points per game. "Coaching those guys has been a really fun experience. They all have very good work ethics but know how to have fun too. All three are pretty competitive so I think they help raise the level of play of all their teammates," Coach Jeff Fix said.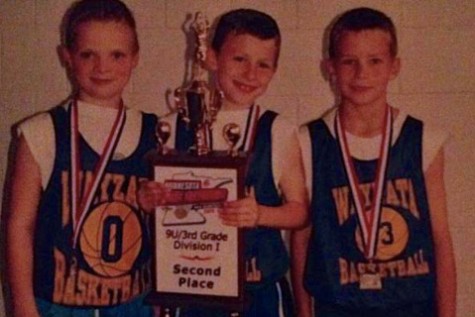 Undoubtedly, their play together has bloomed into tremendous chemistry. Together the trio has scored an impressive 503 points this season amounting to an astonishing 40 percent the team's total points making it safe to say they have a knack for putting the ball in the basket. The superb numbers that they have put up is largely attributed to their play with each other. "Our chemistry is pretty good just because we've worked together so long through practices and games, and the amount of time we've played together has helped a lot," Hathaway said.
Having just committed to play football at the University of Minnesota-Duluth, Lynch will be focusing his talents to the field rather than the court, but for all three of them, intramural basketball is inevitable. "I think I'll end up becoming an intramural basketball superstar try-hard," Polarek said.
Regardless of what looms ahead of them in their college lives, with their Red Knight basketball careers coming to an end, they hope to end their senior year on a good note. Led by the three stars they hope to redeem themselves after a disappointing 2012-2013 campaign. "Our goals are probably to win the conference and become sections champions. We've worked hard for it so it would be cool to get there," Hathaway said.