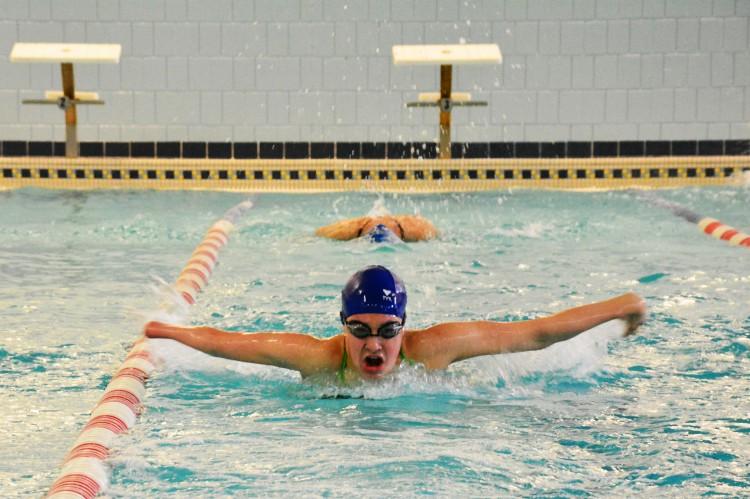 Despite innate disadvantage, sophomore trains to national level
February 6, 2014
When watching sophomore Natalie Sims compete in the pool, it's easy to forget that the award winning, top ranked swimmer flying through the water has only one hand. Her teammates and coaches all agree that Sims is an amazing swimmer and has overcome so many boundaries in her life, and it's no wonder that her name is on the roster of the Emerging National swimming team for the U.S. Paralympics.
Despite being born without her right hand, Sims has not only learned to live everyday seamlessly but also has developed an immense talent for swimming. Competing tirelessly for three years, Sims now swims for the Minneapolis Otters, where she is fueled by a massive amount of support from her teammates and coach. "I love the people on the team and getting the chance to create new relationships. I also love the sport because I get a lot of support from my coaches and my teammates," said Sims.
The real achievement of Sims is not that she competes despite her disadvantage, but that she has become an extremely successful and talented swimmer. Sims recently broke her record for speed last December when she swam 50 meters in just 27 seconds. However, this record is clearly soon to be broken. Sims has a huge amount of pride for her achievements and her team's, including her winning first place in Edmonton in the 100 free. "One of my proudest moments was going to Canams in the middle of December in Edmonton and seeing the beautiful pool and everybody with limb deficiencies, knowing that they are special in their own way and can accomplish anything if they set their mind to it. Seeing that they were just like me was pretty cool too," said Sims.
"
Natalie proves that even with physical limitations, success is really about mindset and will power, which makes me want to work harder and do better."
— Celia Smithmeier
Sims has transcended above expectations in every way possible. While teammates often forget about her disability, swimmers outside the team are often shocked at Sims's speed and skill in the water. Through her immense talent and disregard for potential hindrance, Sims has proved herself as an inspiration to her team, who would consider her a great swimmer even if she had two hands. "[Sims] is super hardworking and in every set of laps our coaches assign she goes above and beyond. [She] proves that even with physical limitations, success is really about mindset and will power, which makes me want to work harder and do better," said sophomore teammate Celia Smithmeier.
Sims was pleasantly surprised when the Minnesota Paralympic swimming coach, Tom Franke, approached her after one of her swim meets and suggested she become more familiar with the program. Soon after she made the Emerging National Standard Time to become a part of the team, and Sims looks forward to keep dropping her time in order to someday meet the national standard. "I was so happy for Natalie when I found out she made the team because she deserves it more than anyone else I know," said freshman teammate Madison Semler.
In preparation for the Paralympics competition, Sims has begun an intense and rigorous training schedule. After school, and often on weekends as well, she trains for three hours everyday at the YWCA uptown. "I'm expecting to be in shape for my next meet which is in Miami and hopefully move forward to go to the summer meet in California, I have to make specific time standards for those as well," said Sims.
Sims not only has proven to compete brilliantly in the pool but also became an example of someone who doesn't let limitations and expectations decide her path in life. Whether she reaches her goal of making the U.S. National Swimming team or not, one thing is for sure: this will not be the last time Sims makes a splash in the world of swimming as she continues working hard and improving for the U.S. Paralympics.
photo by keenan schember