Mediating the Issue
January 29, 2014
To address the concerns of both the residents of St. Louis Park and Minneapolis, the Metropolitan Council, the sponsor of the project, has held community meetings, soliciting the input of residents from both cities. A meeting was held for Minneapolis residents was held on January 7, and a meeting for St. Louis Park residents was held on January 9.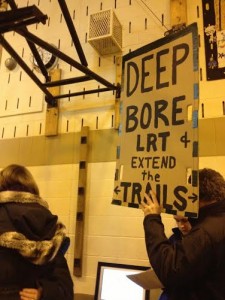 To facilitate the meetings and process, the City of Minneapolis has enlisted the services of Dan Cramer, and his business Grassroots Solutions, dedicated to ensuring that the opinions of residents of both cities are heard by decision-makers. "I know there is a lot of anger and mistrust. I can't fix that in one night. My job is to make sure the conversation tonight is open, honest, and authentic," said Cramer.
While input is being gathered from the community members, the project is currently on hold. "Studies are currently being conducted to determine the best ways to move forward with the project. The project stands at a pause right now, in order to conduct the studies," said Meredith Salsbery, Director of Communications for the Metropolitan Council.
Cramer and his team will share the results with the conductors of the studies, and ensure that the voices of residents' are heard by the Metropolitan Council and other decision-makers.
This first set of meetings, however, was only for residents to ask questions and pose concerns––not to have them answered, raising skepticism among some community members. Cramer expected this, but believed the process to ultimately be the best method in the long-run. "I suspect there's some skepticism with this format, but I designed this off of what my firm has found as best practices for community engagement," he said.