"The Runaround" shows maturity from folk-group Wild Child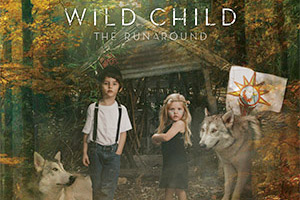 On October 8, the vibrant, lovesick-sounding, indie-folk band Wild Child released their long anticipated, sophomore album The Runaround. The album features the traditional, flowing sound of their debut record, crossed with a more refined set of melodies and rhythms that exhibit the band's newfound maturity in the recording studio.
When the now six member band started out in 2009, the two founding members were nothing more than two amateur musicians piecing together melodramatic ballads on their porch in Austin, Texas. Violinist Kelsey Wilson and ukulelist Alexander Beggins found fame by intertwining vocals and formally recording of their loss-of-love-songs.
Since the release of their premiere album Pillow Talk, the band had been splitting their time between the stage and the recording studio. Their musical depth has further advanced in The Runaround with the addition of a keyboard and cello.
Songs like "Victim to Charm", "Stitches" and "Anna Maria" feature a classic, memorable sound that resonates familiarly in a violin, ukulele duet. "Stitches" promotes a series of happy upbeat melodies and flitting, lyrical intertwinings between Alexander and Kelsey. "Stitches" and "Anna Maria" feature a storyline transition from a traveler on the way home to his realization that everyone he used to know has moved on without him. "Victim to Charm" depicts a quarrel between ex-lovers played by the two vocalists in a back and forth ballad.
Wild Child
The album also features faster paced tracks like "The Runaround," "Crazy Bird" and "Living Tree," that have a dance-like, rhythmic appeal. All of these songs use a steady kick drum and high-hat to keep tempo while different instrumental melodies flow alongside in time. "The Runaround" plays a high-keyed piano as the theme, while "Crazy Bird" and "Living Tree" use vocal patterns like whistling and falsetto as the structure.
Wild Child's lyrical content has also been elaborated upon, seen in a bevy of similar songs like "Anna Maria" and "This Place," that capitalize on unsteady relationships and the ideas of homesick, nostalgic moments on the road away from loved ones shown in "Left Behind" and "Coming Home." Although most songs still display a central theme of heartbreak, a more expansive spectrum of content presents itself through the band's southern colloquialisms and the witty dialogues between Kelsey and Alexander.
Overall, this album paints a portrait of departure, devotion, betrayal and realization through varying bluegrass-folk melodies and harmonies. The deviation from their traditional sound welcomes a multiplicity of catchy, novel tunes that leave a distinctive sound. Wild Child's sophomore album, The Runaround was certainly a worthwhile purchase and can only contribute to the era of folk revival.