Part 1: Homeless Youth
Most homeless youth make extremely adult and mature decisions to leave a dangerous situation. They don't run away from home to evade responsibility or dodge parents' rules. They instead confront situations that are either a present or future source of danger. "Most of the time when youth become homeless, it's because they have to make a very mature decision to be the parent at that given time, or sometimes they just get tired of being the parent," Corey said.
May 31, 2013
Often when people hear about homeless youth, they immediately place blame on the parents, not conceiving any possible reason why this child should be homeless. Kristan Clow is the Outreach Manager at The Bridge for Youth in South Minneapolis, and, she herself used to be homeless. "I think people are almost ignorant to it like, 'Where's their parents? Isn't it their parents' responsibility?'" Clow said.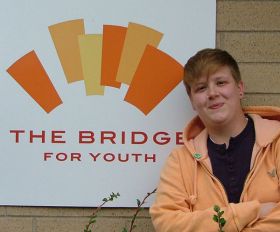 Homelessness, especially with youth, often results from the cycle of poverty, depriving young people of poor backgrounds of the resources and support systems required for them to succeed. Kristan Clow was a victim of this cycle, but was able to rise above it. "Homelessness and poverty, it's in my family, growing up it was just something that affected me and impacted me, and when I came out as LGBT identified I had a lot of issues, and my father had kicked me out of the house, and I then experienced homelessness," Clow said.
Clow did not only surface from this cycle, but rose far above it. Recognized by the White House as a Next Generation LGBT Leader for her work with young people, Clow has already achieved great success in her life helping youth. Despite her experiences with homelessness, Clow rarely uses her personal story in her work, and instead recognizes that each youth's experience is vastly different. "I don't know their experience, our life experiences are very unique…I will use my story to dispel myth more than 'I know where you've come from,' because I don't necessarily know," Clow said.
Clow touches on a very important aspect of youth homelessness: each person's story is vastly different––every teen comes from a different background, has endured different hardship, possesses different coping abilities. Due to this, there are a variety of reasons that youth become homeless. One especially common cause is that young women were sexually abused at home and made the decision to leave.
Corey, who now supports teens at YouthLink drop in center in Minneapolis, used to be supported there herself. She provides insight into the trying pasts of many homeless youth. "For young single mothers, there can be too many mouths to feed, which leads to verbal abuse and neglect, so the oldest children choose to leave," Corey said. At times parents have chemical abuse problems or choose to have relationships with people who force the teens to leave. Another reason that teens become homeless is when they phase out of the foster care system upon turning 18.
Corey began experiencing homelessness during her last few months of high school when it became too difficult to support herself and her mom at home. "With me and my mother it was a lot, she was dealing with a lot of skeletons that were coming back into her life and it became me supporting the both of us instead of her supporting the both of us. It became overwhelming physically, financially, and emotionally, and it just wasn't safe," Corey said.
Homeless teens don't wander the streets pushing a cart with their belongings, instead they're in school, and they have jobs. "You could go into a high school and you wouldn't be able to identify who's homeless and who's not, they look exactly the same and have the same struggles…they just don't have a place to go at night," Eric Richert, a case manager at Hope Street Emergency Shelter in Minneapolis, said.
The challenges of youth homelessness differ so greatly from those of adult homelessness, as homeless youth become incredibly vulnerable in their situations. "They're vulnerable to things like sex trafficking and prostitution because they're out on their own and don't have a place to stay. A lot of times what's offered to them is a place to stay if they give up something that they have, so a lot of times that's their body," Richert said.
The emotional, physical, and psychological vulnerability of youth experiencing homelessness can lead to situations like these that put the youth in danger of even more harm. The Minnesota state legislature recognizes the tragedy not only for the teens but for the entire community. "When it gets dark, everyone is your enemy. Even if you find a place to lie down you can't close your eyes just in case," said Allison Wesley, a formerly homeless teen who spoke during a hearing at the state Capitol on April 5.
The vulnerability of youth to crime, trafficking, and other dangers is not the only difference that sets homeless youth apart. Usually youth make the transition to adulthood under the guidance of many adults––parents, counselors, teachers, relatives, coaches––but homeless teens are placed at a great disadvantage because most lack this bridge into adulthood. "Young people are still at a really significant point in emotional development and brain development; we can't lump kids in with homeless adults," State Representative and author of the Homeless Youth Act, Laurie Halverson said.