Musgraves starts path towards country music success with latest album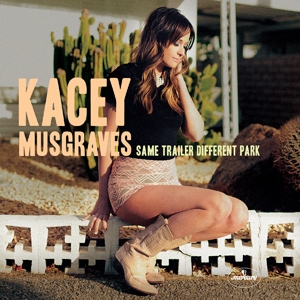 After releasing three independently recorded albums, singer-songwriter Kacey Musgraves has finally made her big break in country music after recording her latest album with Mercury Records. "Same Trailer Different Park" provides listeners with several catchy, banjo prominent songs that create true country sound. Musgraves was able to successfully incorporate stereotypical country songs about the trailer park lifestyle as well as deeper ballads of love onto this ear-pleasing record.
The pre-album single, "Merry Go 'Round" created great expectations for the then upcoming album. The song describes how routine life is and how the future is predetermined. The track's use of repetitive mandolin plucking gives the song a slight country twang while the song's vocals showcase the soft, sweet side of Musgraves's relaxing voice. With a relatable storyline and simple instruments, it isn't a surprise that the song made it onto Billboard's Hot 100 Music Chart.
Mercury Records
Songs such as "My House" and "Blowin' Smoke" are foot-tapping tunes with the sound and lyrics of stereotypical country songs. "My House" starts out with a few bars of harmonica as a string plucking rhythm picks up. Listening to the lyrics, listeners can't help smile as Musgraves pokes fun at what is was like living in a mobile home: "If I can't bring you to my house, I'll bring my house to you." "Blowin' Smoke" has more of a rock side to it than the rest of the songs on the album, with more intense electric guitar and drums. However, the use of banjo and the lyrical references to someone's husband being in prison reminds listeners that it's still a country song.
"Stupid," a country rock ballad about love-life mistakes, uses deeper mandolin and louder drums resulting in a Miranda Lambert-like sound. Musgraves uses a catchy, repetitive vocal pattern in both the verses and chorus, making it difficult to not hum the song out loud in public. The vocals in this song display the more intense, louder aspect of Musgraves' voice with a faster pace.
In addition to the twangy, stereotypical country and country-rock songs, Musgrave gives listeners a boost of confidence in "Follow Your Arrow." The fast tempo and fun tambourine rhythm accompanies lyrics promoting self-confidence, even if it's hard to have that confidence. The song closes with intense, yet cheery, acoustic guitar and a group of whistlers, leaving the listener content and in a great mood.
The album concludes with a slower ballad of mandolin and slow acoustic chord progression. "It Is What It Is" uses male and female harmony, as well as stronger, higher pitched notes, to feel the true emotional pain Musgraves has gone through with a man she still secretly has feelings for.
"Same Trailer Different Park" has the perfect mix of songs for Kacey Musgraves's big-time debut. The tracks on this album display her vast vocal abilities, both in range and in style. With artists like Taylor Swift, it seems as if country is slowly turning into pop, but Kacey Musgraves saves country music from this phase with her strong, true country roots. This album is packed with several potential hits, making Musgraves destined for success.